Twitter (and other social media platforms) have a unique ability to manufacture "holidays", finding reasons to celebrate something just about every day. Â With today being Dr. Seuss' birthday, it is only fitting that "DrSeussDay" is currently trending on Twitter. Â Perhaps not coincidentally, #WednesdayWisdom" is also trending.
I love this. Â If you think about it, Dr. Seuss should be credited with the creation of the first "motivational poster" through his illustrations and wisdom shared in his books. Â Today provides a seamless and fun opportunity for teams to create motivational messaging to share with their fan base. Â An inspirational post is more powerful than traditional content in the sense that it creates an emotional connection to the brand. Â Tying a message to something as simple as #DrSeussDay and #WednesdayWisdom creates an authentic and organic means for reaching fans of all ages.
Surprisingly, few teams have jumped on the opportunity thus far. Â A quick scan of my timeline shows a limited number of posts with #DrSeuss hashtags. Â Considering how many teams participate in anything from #NationalToastDay to #LEAPDAY, it seems a bit surprising that more teams haven't taken advantage of the opportunity today's "holiday" provides.
That said, here are a few examples of how the sports business business world is taking a moment to pay tribute to the great Dr. Seuss. Â If you think about it, Dr. Seuss is actually the originator of the "motivational poster" we see so often in sports through the illustrations and wisdom shared through his books.
The Carolina Panthers' mascot is all in on #DrSeussDay!
Celebrating #DrSeussDay like pic.twitter.com/4vPgUM8j7t

— Carolina Panthers (@Panthers) March 2, 2016
Dartmouth Hockey took a moment to recognize Dr. Seuss as one of the school's most influential alumni.
Celebrating 1 of Dartmouth's finest today, Happy 112th bday to one of the brainiest #DrSeussDay #ohtheplacesyoullgo pic.twitter.com/piXTR5HpIB

— Dartmouth Hockey (@dartmouthhockey) March 2, 2016
The Houston Astros posted a motivational image for fans. Â This seems like a slam dunk idea for any team today.
One more thing to celebrate today…Happy #DrSeussDay! pic.twitter.com/ktnmbJQtD6

— Houston Astros (@astros) March 2, 2016
The Houston Texans posted a vine with a player hopping out of the tunnel to start a game with a reference to a Seuss classic, "Hop on Pop." Â Adding visuals like vines and gifs can create an even stronger emotional connection with fans.
Hop on Pop. #DrSeussDay pic.twitter.com/Z6uUcrVVWc

— Houston Texans (@HoustonTexans) March 2, 2016
This image was posted on NBA on TNT's Twitter account with the caption "Starring Splash 1 and Splash 2" in tribute to the Golden State Warriors' "Splash Brothers." Pretty clever.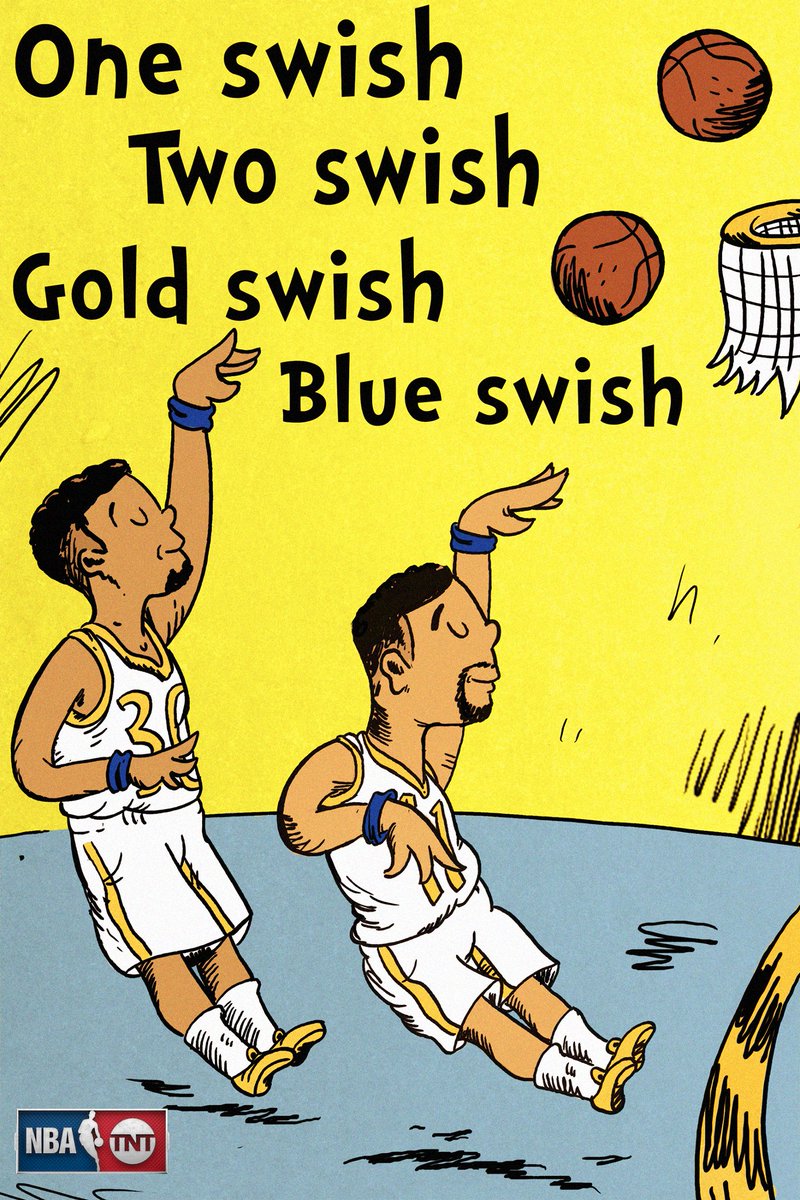 Creating content worth sharing through social channels is always a challenge. Â Creativity can be key when trying to capture the attention of fans so kudos to those who have jumped on the #DrSeussDay train today.