SCC FFL 2022: Sports Marketing Challenge #3 Recap & Scores
SCC FFL 2022: Sports Marketing Challenge #3 Recap & Scores
We are only halfway through our annual fantasy football sports marketing competition and we are already starting to see some separation at the top of the standings.
Congratulations to Matt Kabza's students at Grant HS in Oregon for maintaining their first place spot, but several other schools are still within striking distance, threatening Grant's hopes for back-to-back titles.
Points have been distributed for each school's response to the Public Relations / Community Relations component of this competition (sports marketing challenge #3). Updated standings are below as well as a few individual shout-outs for particularly strong PR plans.
Blacksburg High School, Virginia (Virginia Beach Tridents)

Blacksburg High School students continue to churn out great ideas while demonstrating a strong understanding of the sports business concepts that this competition is focused on teaching. Top to bottom, the Tridents communications plan was one of the best we saw in this round of the competition, and we thought the crisis management strategy in particular was very well constructed. They were proactive in developing contingency plans in case negative press were to arise, which will certainly pay dividends in times of a PR crisis.
We also thought there were some great ideas for building support for the franchise throughout the community, and some interesting ideas, including a very on-brand initiative with local Friday Fish Fry events during the season. The Tridents' idea of hosting community events and state championship games at the stadium is a great way to not only build a sense of community and connection with the fanbase but also an opportunity to generate revenue through ticket sales. Many other professional leagues offer similar programs tied to ticket sales efforts, and we could see this being a massive success in football.
Overall, another really nice effort from the Tridents front office.
Grant High School, Oregon (Hawaii Fire)
There is quite a lot to unpack here with the Hawaii Fire response to the third sports marketing challenge. Jam-packed with community relations initiatives, the Fire franchise will no doubt make an immediate splash in the Honolulu community in the team's inaugural season. As always, the report was really well organized, and the strategy was well developed. Not only did they establish strong core community outreach activities, they also had a very specific plan for communicating information about those activities to fans through a promotions plan.
Some highlights:
"Volcano Rush" fan experience opportunity as part of an annual fan fest to get fans excited about the team's inaugural season
Monthly "Beach Pickup" community involvement initiative to help keep the beaches of Oaha clean, including player and staff volunteers to help encourage more locals throughout the community to participate in the effort
Free youth football camps to teach youth about the sport
"Surfing for Sea Life" surfing competition to raise awareness and money for ocean conservation
Establishment of "Hawaii Fire Nature Foundation", created with team profits, that will engage in a variety of sustainability initiatives including include ocean trash cleanup, planting and preserving local flora, supporting endangered or threatened species and more
Strategic community partnerships with local organizations like Hawaii Academy of Recording Arts, Hawaii Conservation Alliance, and Hawaii Wildlife Center
However, it wasn't just a robust commitment to community relations, the team also submitted a fantastic media relations plan, including a very detailed sample press kit, and a really impressive press release demonstrating the understanding Grant HS students have of crisis management.
REALLY nice job from the Fire front office!
Helena High School, Montana (Oklahoma Outlaws)
Another challenge, another strong response from students at Helena High School. In addition to showing a really firm grasp on key PR and communications concepts, the Outlaws front office submitted some fantastic community relations ideas.
Nice job explaining not only what type of advertising the team will invest in to communicate key community relations initiatives, but also what the message will be and how the team hopes the message will resonate in a way with the fan base that it will build goodwill for the franchise. We also thought the "flash-mob with the mascot" PR stunt was a fun way to generate publicity, and smart thinking to make sure the event is family-friendly to keep it consistent with your organizational goals from the first sports marketing challenge and the team's marketing plan.
In general, Helena students did a nice job recognizing the important of taking fans behind-the-scenes and creating as many access points with players as possible. There is no better way to help forge a relationship with the local fan base than to make them feel that they are appreciated by the players and the organization. The Outlaws' front office has established a plan that goes above and beyond to make sure that is the case in Oklahoma.
We look forward to seeing what the Outlaws' front office comes up with for challenge #4!
Montgomery County High School, Missouri (Salt Lake City Maniacs)
The communications and PR plan in response to sports marketing challenge #3 from Montgomery High School students really checked all the boxes with a strong community relations plan, great ideas for managing PR, and a media relations strategy that will help bolster the team's overall communications with stakeholders.
To insure the franchise establishes itself as a pillar of the community, the Maniacs front office will make its staff and players visible and available for public appearances, along with prioritizing initiatives like the visitation of hospital and care units and fundraising for local causes (we loved the "picnic basket dash" idea to auction to raise money along with the trivia night fundraisers).
In addition, MCHS students had a sound crisis management plan in place, with a thorough plan for addressing any negative publicity that may arise. Overall, nice work from the Maniacs front office!
Miami Valley Career Technical Center, Ohio (Dayton Jokers)
MVCTC students crushed this challenge with creativity! We loved the extra effort that the Jokers front office put into this challenge (they even created an actual website to communicate key information to fans), along with some really outside-of-the-box thinking.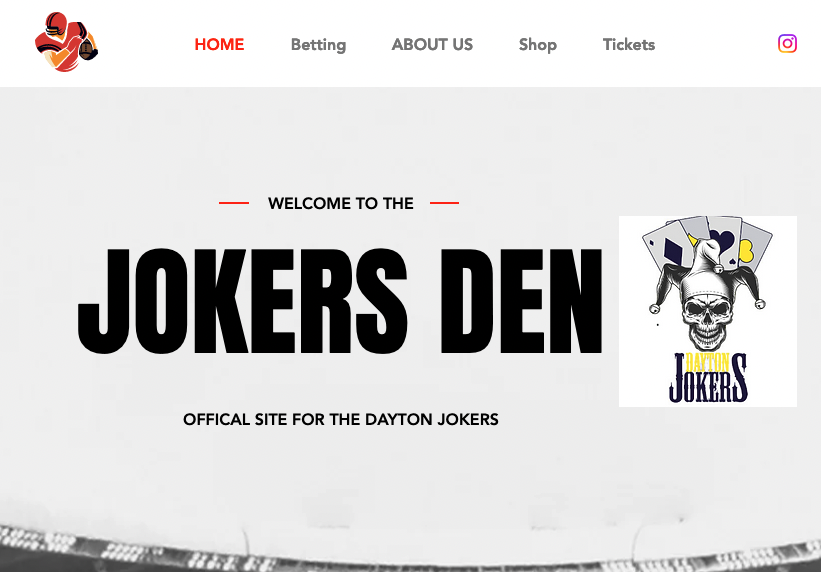 The Jokers' "House of Cards" PR stunt was a great idea, building a house of cards at halftime of a game would certainly generate some headlines, keep fans engaged and entertained, and bring visibility to the stunt's corporate partner, and it was a nice way to augment a very good overall communications and PR strategy. We thought there were a lot of really nice touches to the community initiatives, like sending Joker Christmas cards to help build relationships during the holidays, along with making sure the players are involved in the community through virtual interactions and public appearances. For example, who says parades can only take place to celebrate a championship? And, in a very on-brand community relations effort, the Jokers are all-in on Halloween activities on and around the stadium and community.
We thought the Jokers front office established the best media relations plan in this challenge by placing an emphasis on creating meaningful relationships with local and media to provide fair and consistent coverage of the team. Also, great idea to carve out a special Jokers-themed section of the local sports newspaper (appropriately called the "Jokers Suite") to communicate team information like game results, team announcements, acquisitions, standings, and more. Last but certainly not least, we thought it was a brilliant idea to create a "Hard Knocks" style mini-series in partnership with Fox Sports Ohio and local radio. Fans will definitely build a connection by watching "Jokers: Ante Up" in the team's inaugural season.
Great job MVCTC students!
Woodbridge Senior High School, Virginia (San Antonio Spiders)
There was a lot to appreciate in this challenge response from students at Woodbridge Senior High School. Nice job researching existing NFL community relations issues and piggybacking on that with the NFL360 program, along with the NFL Cares foundation. Smart idea and a good cause to tie in with the current crisis in Florida with the team's efforts to support hurricane relief efforts.
The Spiders front office did a great job leveraging social media as a communications tool, helping educate fans about all the organization's community relations efforts, including the team's "The Spider Care Foundation", which will provide care to fans and residents in San Antonio that are in need and focus on major issues occurring in San Antonio.
Really nice job from the Spiders front office!
SCC FFL 2022 STANDINGS AFTER CHALLENGE #3
| | | |
| --- | --- | --- |
| School | Team Name | Points Possible |
| | | |
| Grant High School (OR) | Honolulu Fire | 746 |
| Blacksburg High School (VA) | Virginia Beach Tridents | 743 |
| Helena High School (MT) | Oklahoma Outlaws | 742 |
| Miami Valley MVCTC (OH) | Dayton Jokers | 740 |
| Woodbridge High School (VA) | San Antonio Spiders | 739 |
| Montgomery County (MO) | Salt Lake City Scorpions | 737 |
| Elizabethtown High School (PA) | Portland Pioneers | 736 |
| Carl Sandburg High School (IL) | Toronto Coyotes | 731 |
| Kent CTC (MI) | Berlin Badgers | 730 |
| Five Star Magnet Academy (FL) | Salt Lake City Maniacs | 728 |
| Tolland High School (CT) | San Antonio Spartans | 727 |
| Los Banos (CA) | Santa Cruz Prairie Dogs | 727 |
| Northwest HS (OH) | Salt Lake City Mountaineers | 726 |
| Wichita East (KS) | Kansas Knights | 725 |
| Kent ISD (MI) | Portland Wildcats | 722 |
| Kellam High School (VA) | Toronto Taipans | 485 |
| Bigfork High School (MT) | Salt Lake Pronghorns | 482 |
| Richardson High School (TX) | Portland Lumberjacks | 480 |