SCC FFL 2022: Sports Marketing Challenge #5 Recap & Scores
SCC FFL 2022: Sports Marketing Challenge #5 Recap & Scores
With just one sports marketing challenge remaining (digital marketing) before we crown a champion in our sixth annual sports marketing competition, several schools remain in contention for this year's SCC FFL title.
One of our favorite things about this competition is seeing not only how well our students grasp fundamental sports business concepts, but the effort, enthusiasm, and creativity that goes into each response to our sports marketing challenges. One of the best challenges for demonstrating that creativity is the ticket sales, promotion, and sponsorship challenge and this year's competitors did not disappoint, incorporating elements from three different chapters of our textbook while demonstrating an understanding of the importance of the sales and service function in managing a professional sports franchise. There were so many unique and fun ideas. We also loved seeing the mock-ups of actual tickets that their franchise would be distributed to fans…
Points have been distributed for each team's response to the Sponsorship / Ticket Sales / Promotion component of the competition (sports marketing challenge #5). You can find the updated standings along with a recap of some of the highlights from challenge #5 below. 
Wichita East High School, Kansas (Kansas Knights)
It is always fun to see the various ticket mock ups from students in this challenge. This one from students at Wichita East High School is a great example.

The Knights front office had some good promo ideas, and we really liked seeing a sponsor tied to each home game. Featuring other teams from this competition instead of actual NFL teams as part of their promo schedule was a really nice touch as well.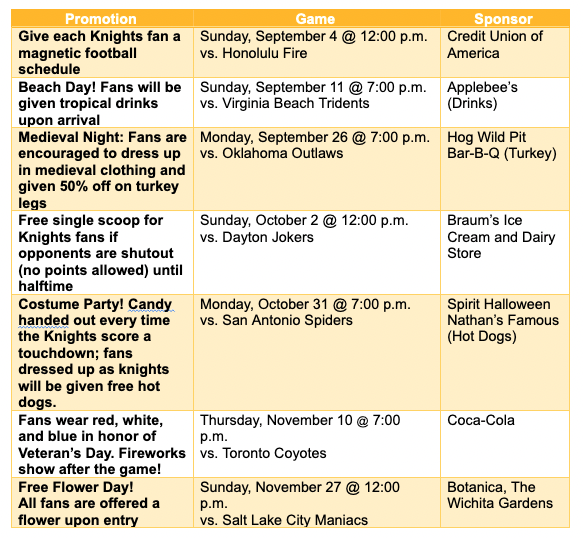 Well done Knights front office!
Elizabethtown High School, PA (Portland Pioneers)
Students from Elizabethtown HS did a fantastic job dialing up an activation strategy as part of the Pioneers' sponsorship plan. In addition, they incorporated aspects of cause marketing, and recognized the importance of sponsor categories, rate cards, and inventory. Overall, this was a really impressive challenge response from the Portland Pioneers front office.
Some highlights:
Primary sponsor (Columbia Sportswear): Great job partnering with a very on-brand naming rights partner with Columbia, and that sets up nicely for all the planned activations including signage, merchandise opportunities, branded transport (cool idea!), Columbia branding on team plane and team buses, and more.
Secondary sponsor (Snapple): Love the digital activation with the game day scavenger hunt featuring QR codes with prizes redeemable onsite at Snapple branded kiosks and stands, nice job including advertising as part of the activation, including TV spots, and out of home throughout the city.
Secondary sponsor (Old Spice): Super creative activation with the release of a limited edition Portland Pioneer scent for shampoo and for men and women as an extension of the partnership. Providing samples on game days will provide a lot of value for the sponsor, and tying an in-game, season-long promo will help to increase exposure and awareness. Interesting idea to allow signage on seats, but some potential there with Old Spice-branded seating. Great cause marketing program as well with the Old Spice sacks for charity promotion throughout the season.
Overall, this was a really nice challenge response from the Pioneers front office!
Montgomery County High School, Missouri (Salt Lake City Scorpions)
We loved to see Montgomery County High School students prioritizing accessibility to tickets for their fans. The Scorpions front office makes it easy for fans to find and purchase game tickets, along with mobile ticketing plans to make it easy to exchange and forward tickets, and enter the stadium on game days.
We also thought it was a great idea to include group benefits and incentives for group leaders, bundling things like concessions (including the team's soon-to-be game day favorite, the Scorpion Burger), parking and merchandise offers with packages to add value, to maximize group ticket sales for the team's inaugural season. Last but not least, the front office put together a fantastic promotions calendar (and a "golden ticket" promotion that offers lots of potential).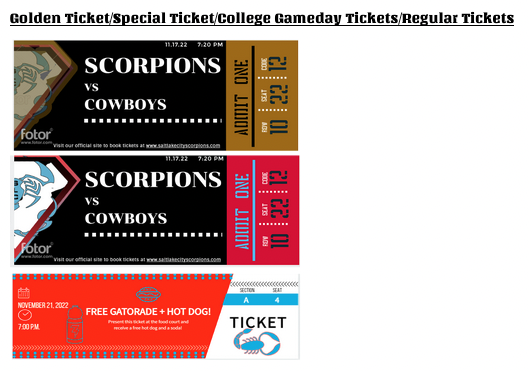 Promo calendar highlights:
DC Comics Day the first 30,000 people who show up will be receiving mystery capes featuring Batman, Superman, Flash, Wonder Woman, and Aquaman…interesting approach considering the popularity of DC-rival "Marvel Comics" themed promotions throughout the industry right now.
Utah Jazz Night – Great cross promo and giveaway promo with a "mystery item" between a scarf and an ugly sweater. The scarf will have a Scorpion logo on one side and a Jazz logo on the other and the ugly sweater will be Jazz and Scorpions colors.
Bobblehead and Jersey Nights
Family Night
"Pastrami Burger Night"
Pink Ribbon Night- The first 2,000 fans to purchase tickets for this event will receive a voucher for our exclusive GO PINK Scorpion shirt! The event features a $4 discount off the regular price of tickets in select locations.
College Student Day- first 30,000 college students to enter can bring their specialized ticket to the concession stand or gift shop to receive an item of their choice
Love the offseason promos as well, including celebrity flag football event, on field movie night, concert night w/ post alone etc.
Really nice job Scorpions front office!
Miami Valley Career Technical Center, Ohio (Dayton Jokers)
MVCTC students dominated this challenge, putting the Jokers front office in position to pull off an epic come from behind win in this competition. SO many great ticket sales ideas, and a fantastic execution of a sponsorship activation strategy.
We loved the idea of a membership card, and featuring benefits at sponsor locations along with ticket buying opportunities, promos, and discounts will also help to build loyalty among the fan base in the team's inaugural season.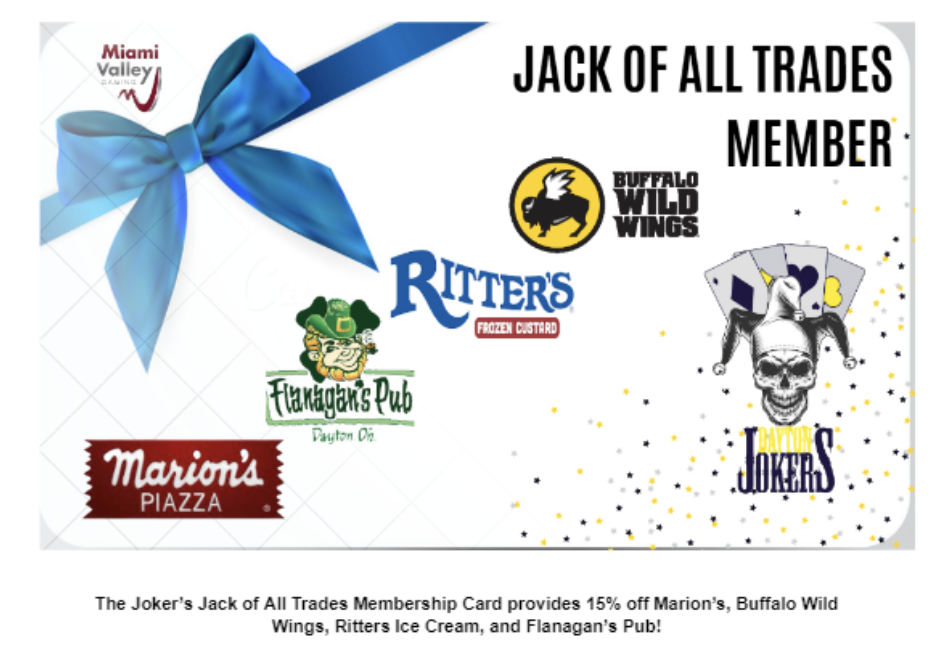 One thing that really stood out in terms of sponsorship was the effort the team put into making sure sponsors would generate a return on the investment, making sure to maximize value through exposure, driving traffic to stores, engaging fans on social media, helping to create promotions to boost sales etc. That is so important to any sports franchise if they hope to create long-term partnerships.
It was also a really smart strategy to leverage media partnerships, including social platforms like Insta and Snap, in ways that the team can really benefit. We also thought it was a cool idea to collaborate with Madden NFL 23 for a cross promo.
In terms of ticket sales and promotion, the Jokers' plan included a full menu of options for fans, including full season promos, In-Venue promos, On-Field, event promotions and more. They also made sure to tap into a rivalry game for a promotional opportunity.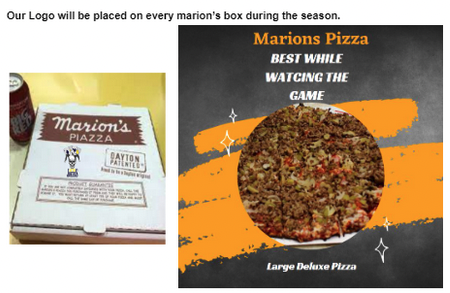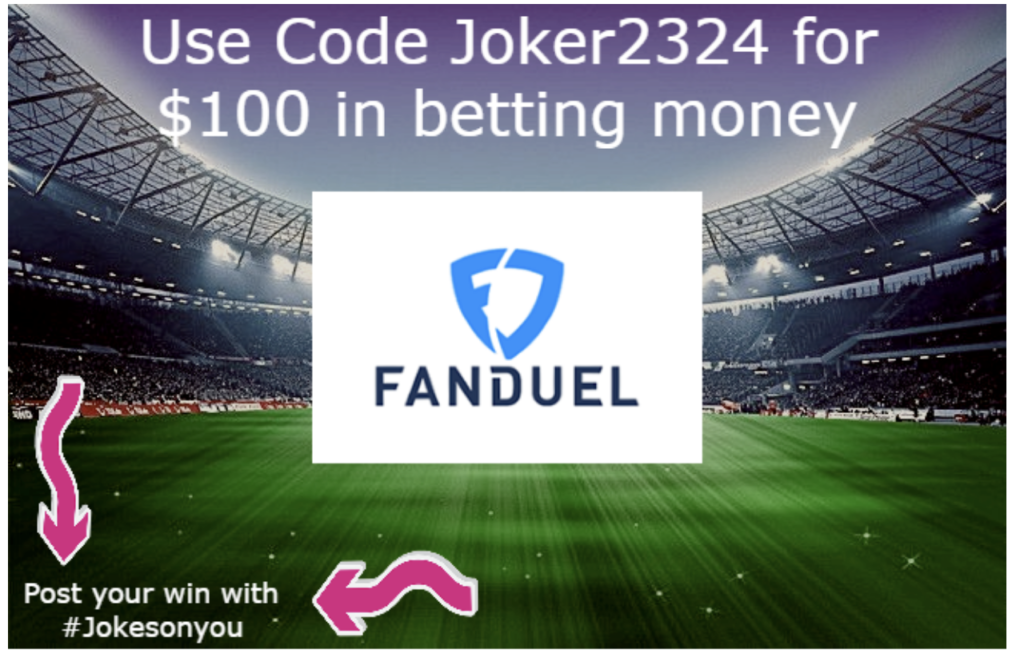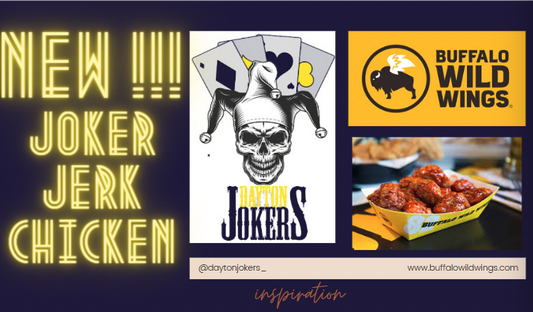 The Jokers front office really nailed this challenge. Great job MVCTC students!
Helena High School, Montana (Oklahoma Outlaws)
It was very evident that the customer is the priority in Outlaw country. Helena High students put an emphasis on service and fan experience at every opportunity with their sponsorship, ticket, and promotions plan, and the strategy is a solid one. Making ticket buyers and fans feel valued by both the franchise and the team's sponsors is sure to help to build a loyal following in the city.
Some highlights from the Outlaws front office ticket plan:
End of season "thank you" parties for season ticket holders
Free shuttle service and a beverage on game day for season ticket holders
Great sales strategy with a referral plan, rewarding season ticket holders who refer other fans to purchase season tickets
Family meal deals with the inclusion of a gas card from a sponsor
Actively utilizing social media to promote ticket sales packages
Using digital tickets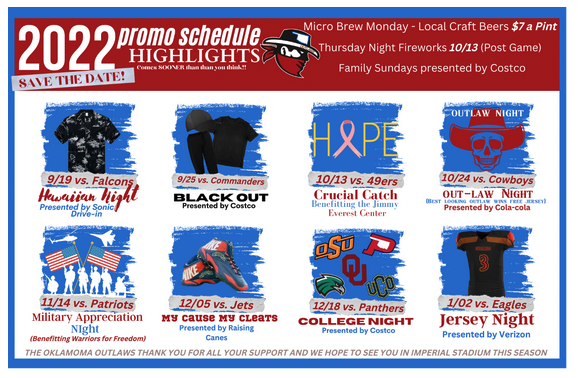 The Outlaws front office also did a great job developing a variety of sponsorship packages in a tiered system. They demonstrated a firm grasp on the concept of inventory through the various packages, including some creative sponsor opportunities with parking garage naming rights.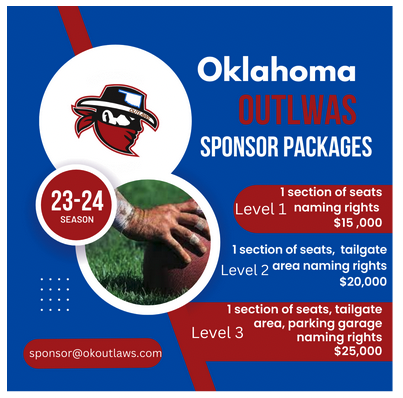 Another nice effort from students at Helena High School!
Grant High School, Oregon (Honolulu Fire)
There are plenty of highlights from the Fire front office ticket, sponsorship and promotion report as Grant High School students tackled sports marketing challenge #5 with great success. One of the most innovative ideas from the Fire was the use of NFT technology to allow the ticket sales function to serve multiple purposes, not only allowing fans entry to games, but also providing fans with a collectible while allowing the franchise to capture valuable consumer data. The data can then be used to inform fans about upcoming promotions, ticket specials, and more, all while helping to build fan loyalty. From the team's report: "All of our tickets will use NFT technology, this allows tickets to become similar to trading cards. Out of the 65,000 tickets, we will sell per game, 500 of them will be digitally signed (and authenticated) by Hawaii Fire Players which increases ticket value. Once the ticket is purchased, the digital ticket would be accessible through the app and text/email confirmation, allowing fans to easily access their ticket. The QR code on the digital ticket links to the NFT ticket as well as a "Fan Profile" which each fan will create when they purchase a ticket. Each fan can use their profile to keep track of the rewards and discounts they earn. When a vendor scans the QR code, they can see the discounts the fan has and can apply those to the items they are trying to purchase. This improves efficiency on the storefront and ensures each fan gets their rightful discount."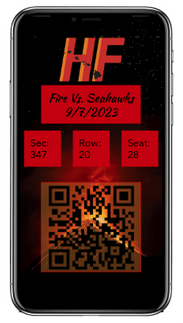 The Fire also plans to provide fans with an option for paper tickets, as many fans still prefer a hard copy as a collectible. This has been an actual issue that teams across the industry have been grappling with as they transition to digital/mobile ticketing services so it was nice to see Grant HS students recognize, and address, that challenge.
Most importantly, the Fire front office communicated a clear plan for both the franchise's service and SALES strategy. This might be the most detailed sales and service strategy we have seen in the history of this competition, and anyone who works in sports will tell you how much emphasis is placed on the sales function of every organization. The Fire addressed plans for lead generation, sales (and service) training, upselling, direct sales, personal selling, referrals, customer service, and more. Really, really impressive!
Fantastic job Grant HS!
SCC FFL 2022 STANDINGS AFTER CHALLENGE #5
| | | |
| --- | --- | --- |
| School | Team | Total Points |
| | | |
| Grant High School | Honolulu Fire | 1243 |
| Miami Valley MVCTC | Dayton Jokers | 1240 |
| Blacksburg High School | Virginia Beach Tridents | 1237 |
| Helena High School | Oklahoma Outlaws | 1237 |
| Woodbridge High School | San Antonio Spiders | 1233 |
| Montgomery County | Salt Lake City Scorpions | 1226 |
| Elizabethtown High School | Portland Pioneers | 1222 |
| Northwest HS | Salt Lake City Mountaineers | 1216 |
| Wichita East | Kansas Knights | 1215 |
| Tolland High School | San Antonio Spartans | 971 |
| Five Star Magnet Academy | Salt Lake City Maniacs | 970 |
| Carl Sandburg High School | Toronto Coyotes | 731 |
| Kent CTC | Berlin Badgers | 730 |
| Los Banos | Santa Cruz Prairie Dogs | 727 |
| Kent ISD | Portland Wildcats | 722 |
| Bigfork High School | Salt Lake Pronghorns | 707 |
| Kellam High School | Toronto Taipans | 485 |
| Richardson High School | Portland Lumberjacks | 480 |