SCC FFL 2023: Sports Marketing Challenge #1 Recap & Scores
SCC FFL 2023: Sports Marketing Challenge #1 Recap & Scores
We have a lot of pedigree in this year's SCC Fantasy Football League Sports Marketing Challenge field, our 9th annual. With five former SCC FFL champions and three previous champs from our annual spring case study tournament, we anticipate this being the most competitive field in league history. We look forward to seeing what they have in store for us this season.
In the first sports marketing challenge, students were asked to develop a marketing plan for an expansion professional football franchise. The report required marketing goals and objectives, revenue and expense projections, and a profitability forecast. The responses were evaluated on how well students communicated an understanding of key sports business concepts, creativity, and the selection of an expansion city and team nickname.
While there were some familiar choices for expansion markets this year, with four teams choosing to establish a new franchise in Hawaii, we saw several new areas represented this year. For the first time in the nine-year history of this competition, we will see teams in Miles City, Montana, a franchise in Wyoming, and teams based in Birmingham and Boise. It will be interesting to see how students plan to promote their franchise in these "new" SCC FFL markets.
While all of our schools scored well in response to the first challenge of this competition, we would like to highlight several entries in particular.
Read more

: SCC FFL 2023: Sports Marketing Challenge #1 Recap & Scores
Miami Valley Career Tech Center, Ohio (Gem City Warhawks)
We always looking forward to seeing MVCTC students getting the creative juices flowing early in this competition, and the runners-up in last year's competition did not disappoint. MVCTC students submitted an exceptionally well-organized report, including a thorough SWOT analysis that showed how much research students did into the Dayton market, and realistic goals and expectations for a new franchise in an expansion season. They also did an excellent job addressing the marketing mix.
Overall, another great start to the competition from Zach Gueth's students at MVCTC!
Grant High School, Oregon (Mexico City)
Defending back-to-back champs from Grant High School have rushed to another strong start and have already set the tone for a run at an unprecedented SCC FFL 3-peat. 
As always, Grant High School students submitted an incredibly organized report in response to challenge #1, with a very detailed forecast for revenue and expenses. Students clearly did their homework on the Mexico City market, and offered a very thorough explanation on why the city will provide an excellent opportunity for pro football to succeed. Overall, the group's marketing goals and objectives were very sound. Nice job.
Elizabethtown High School, PA (Miles City Jedis)
Without a doubt, the most unique and interesting submission comes from Elizabethtown High School. Not only did students select a really interesting city in Miles City, Montana, but also an incredibly unique nickname in the Jedis. From the Jedis' report: "The Jedis, a groundbreaking addition to the world of American football, are set to carve out a niche in the sporting landscape, emphasizing inclusivity and charitable endeavors. Located in the rustic backdrop of Miles City, Montana, The Jedis draw inspiration from the rich world of science fiction, particularly Star Wars, to create a welcoming and diverse community of fans and supporters. With over 12 million Star Wars enthusiasts in the 18–29 age range alone, we aim to unite fans from all walks of life, breaking through gender and age barriers, creating economic growth, and promoting a spirit of equality within the sports industry."
In addition to an interesting choice for a location and unique nickname, the franchise is also being structured as a non-profit organization, another first for this competition. We are intrigued and can't wait to see how the rest of the season plays out.
Capital High School, MT (Boise Rattlers)
With two seasons in the SCC FFL under their belt, we expect big things from Jessica Frazier's class this year, and they they showed us in the first challenge that they will most certainly be a contender.
In addition to a very well developed marketing plan, the Rattlers' front office offered up some great graphics to highlight key information from the plan. Overall, a really nice job from Capital High students.
Waverly High School, New York (Louisville Stallions)
Perhaps the best overall marketing plan from this challenge, we really liked every aspect of the Stallions' marketing plan. After a two-year hiatus from the competition, Bob Kelly appears to have his students ready to contend for a championship this year. This group did a really nice job explaining why Louisville is a market ripe for a professional football expansion franchise, explaining the opportunity it presents with its population, median income, number of large corporations and more.
Waverly students submitted a marketing plan that was incredibly thorough, and detail-oriented. We look forward to more of the same from the Stallions' front office this season.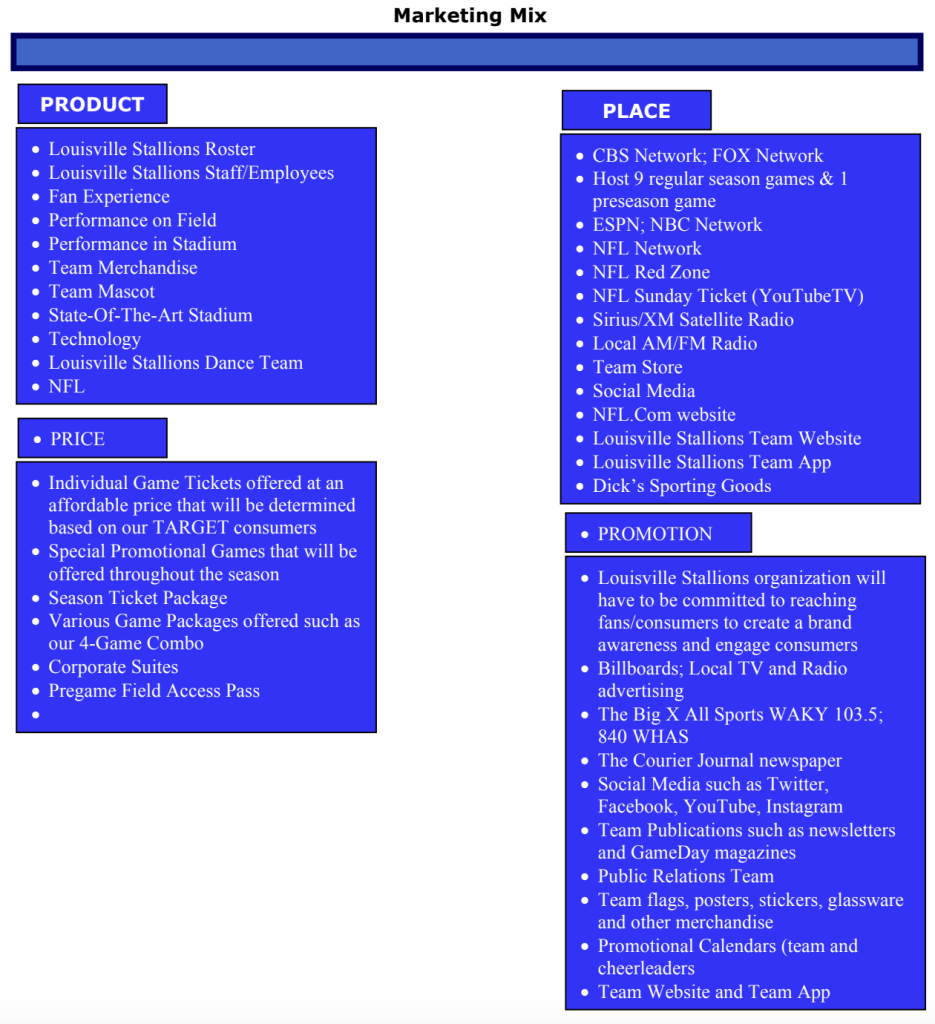 Green Run High School, VA (Toronto Owls)
While Green Run might be first time participants in the SCC FFL, they are no strangers to our competitions in general as two-time champions of our annual spring case study tournament. Given the pedigree, there was no surprise to see an incredibly detailed and thorough response to the first sports marketing challenge. In particular, we really liked seeing the detailed approach to identifying each revenue stream that will help to bolster the team's finances in year one, and also a plan for executing the marketing plan. It is one thing to have a plan, it is another thing entirely to successfully execute the plan, and it was great to see the Owls' front office recognize the importance. Great job!
SCC FFL 2023 STANDINGS AFTER CHALLENGE #1