SCC FFL 2023: Sports Marketing Challenge #4 Recap & Scores
SCC FFL 2023: Sports Marketing Challenge #4 Recap & Scores
Entries are in for the fourth sports marketing challenge in this year's competition. With just two remaining challenges and a crowded leader board at the top, this year's competition is poised to result in a photo finish.
The fourth challenge is one of the most fun challenges to evaluate, in part because we see so much creativity with fan experience strategies, and also with the attention to detail that some of our competing teams go through in designing and creating their stadiums. As always, there were some great submissions this year.
Points have been distributed for each team's response to the Fan Experience / Stadium Design component of the competition (sports marketing challenge #4). Updated standings are below along with highlights.
Waverly High School, NY (Louisville Stallions)
Another impressive showing from students at Waverly High School. The Stallions' front office left no stone unturned, and delivered an incredibly detailed fan experience plans. Of the stand-out ideas presented in the team's fan experience report, we really liked the idea of offering a "fan travel package", and appreciated the analysis of how the stadium would be funded. Privately financing the majority of stadium costs to ease the potential burden on taxpayers will most certainly endear the new franchise to area fans, and that is the type of next level attention to detail that wins this competition. A job very well done by the Stallions front office.
Some highlights:
The Stallions's "Ultimate Fan Travel Packages" (Prices vary dependent on Opponent)
Hotel Accommodations
Game Tickets
Pregame Tailgate
Pregame Field Pass
Family Friendly Options
Pregame Field Pass
Pregame Family Tailgate
Meet and Greet with Colonel the Mascot
Other highlights from the Stallions fan experience plan:
Great idea to communicate behavior expectations with a Fan code of conduct
Nice seamless integration of tech at the stadium with features like contactless entry w/ facial recognition to improve safety and security
Excellent idea to solicit fan feedback with surveys at games to improve the overall experience and making fans feel valued
Loved the unique stadium amenities like the pickleball bar, virtual reality lounge, and FanDuel sportsbook, demonstrate how Waverly students have been following industry trends, and incorporating them into their fan experience and stadium development plans added a nice touch
Smart to offer fans a wide variety of concessions options, including items with local flare like the Kentucky Hot Brown Burger
Love the strategic plan for parking and traffic flow to ease congestion on game days
Great job Waverly students!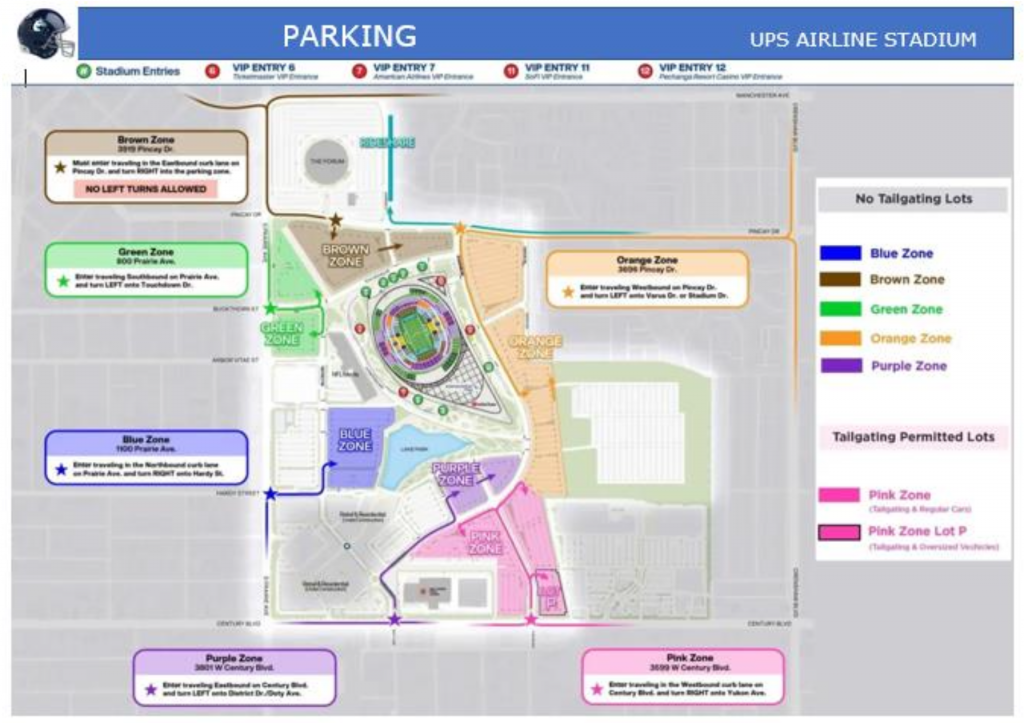 Lyman High School, FL (New Smyrna Sand Sharks)
Clearly Lyman High School students had a lot of fun with this challenge, as evidenced by the fun creative brand extensions with the team's fan experience and stadium planning. In particular, we liked the unique design of "Black Pearl Stadium" with ties to Disney's Pirates of the Caribbean franchise, along with the food and beverage offerings like "Myrna Burgers" and popular local food like Grouper Sandwiches.
Making several "Shark Shack" options available throughout the venue will ensure that fans have easy access and short lines and wait times for food and beverage on game days, and we liked seeing the physical replica stadium model that students created. Nice job Sand Sharks front office!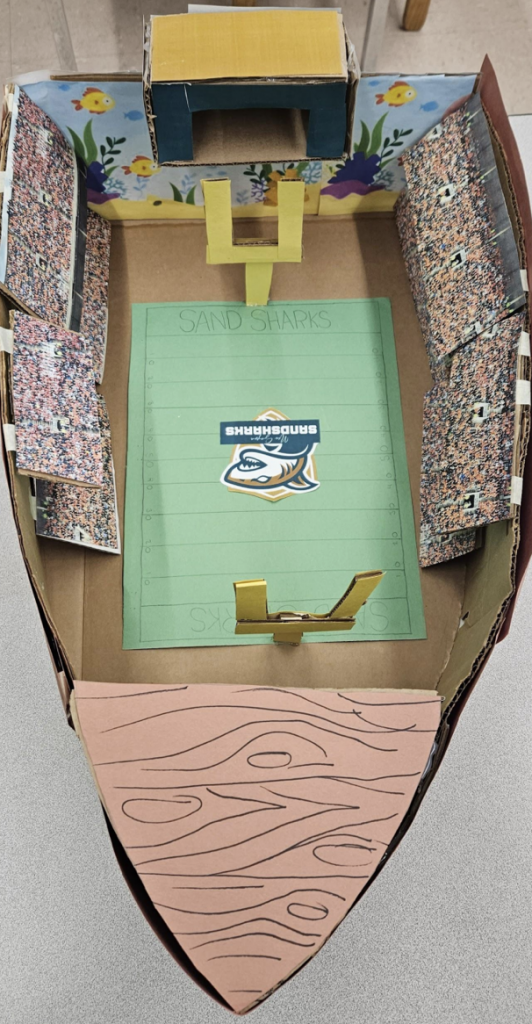 Green Run High School, VA (Toronto Owls)
The fan experience strategy from Green Run students was amazing, and absolutely loaded with creativity and unique ideas. It is always great to see students take what they have learned in class or observed as industry trends and incorporated them into a challenge response, and we saw that with the "Sphere" concept from the Owls' front office, piggybacking on the new "MSG Sphere" entertainment venue that recently opened in Las Vegas. From the team's report, "Located directly next to the stadium, the Toronto Owls Sphere will provide an extraordinary game viewing experience that will transport audiences inside the stadium through technology that ignites the senses and enables audiences to share experiences at a never before seen scale. Toronto Owls will feel the wind, the cold, and they will smell the grass and see through the eyes of the players all without ever leaving their world class viewing seats inside of the Sphere. When the Toronto Owls are not in town, the Sphere will be the hottest place in town for away games and concerts and movies."
Then there was this little gem: "The Quantum Series is the world's best stadium and seating solution due to its structural integrity, competitive price and patented beam mount design. The Quantum Beam allows for the Owls to maximize seating capacity by up to 6% equalling more revenue when it comes to game day!" That is some really next level thinking from Green Run students.
Additional highlights included:
"Toronto Tastings" – A dessert menu at the stadium featuring items created by a renowned pastry chef from Toronto featured on the show "Cake Boss"
A Virtual Reality game room at the stadium
The "world's best stadium and seating solution", as described by the Owls front office in their fan experience report: "BMO stadium has premium Quantum Series seats that arethe world's best stadium and seating solution due to their ergonomic structural integrity, competitive price and patented beam mount design. These comfortable seats allow for more space and at least 6% more sports fans to watch the games in person. The Toronto Owls are set to provide a one-of-a-kind inaugural chance for fans to actively participate in the music, game, and overall experience, rather than merely observing as spectators. Through the incorporation of interactive components into the fan journey, this will enhance their bond with the team."
Opening a TikTok shop to add a unique digital experience on game days with branded shop, allow to order online and pick up at the stadium on game day along w/ limited edition merch for season ticket holders and drone delivery of items purchased from TikTok shop to fans in their seats
A focus on sustainability in the stadium's construction and operation, including water conservation, the use of recycled steel for construction
VR experiences provided in various areas around stadium
Mixed reality feature with the team's mascot, Maple the Owl, flying around the field in mixed reality prior to kick off
Overall, the Owls' submitted one of the best fan experience plans in this challenge. REALLY well done!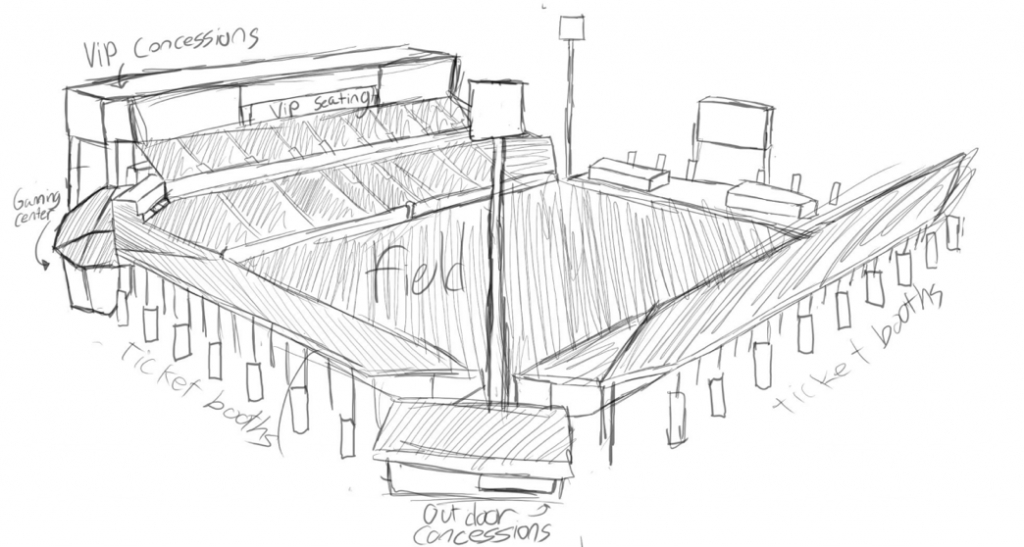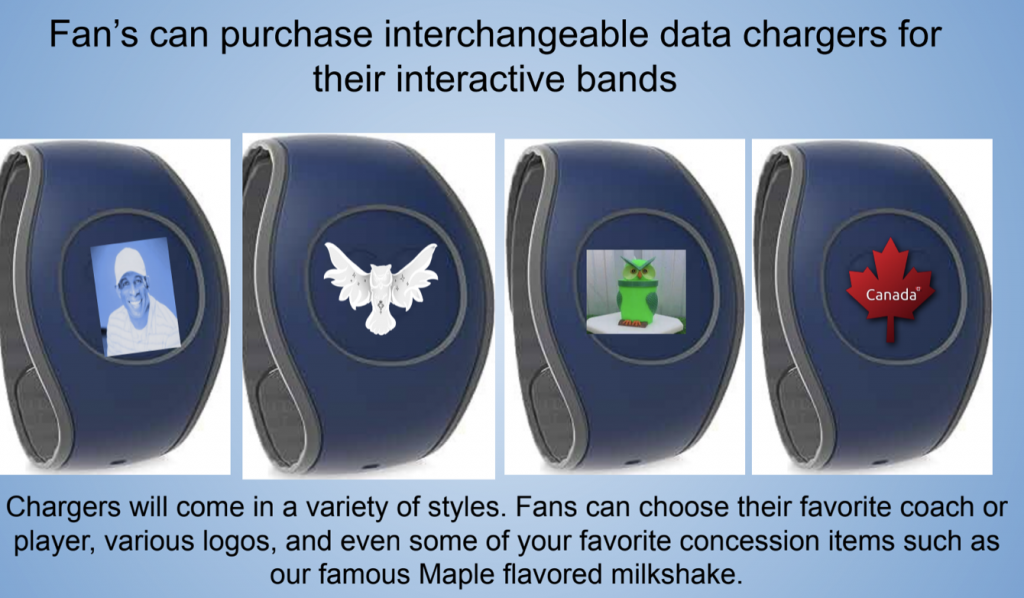 Miami Valley Career Technical Center, Ohio (Gem City Warhawks)
MVCTC were dialed in once again, submitting a well developed fan experience and stadium plan. In addition to a plan that hit all the key fan experience variables, they also offered one of the most unique stadium "tours" we have seen in this competition.
Click on the link below to take a virtual tour of Delta Stadium built by the Sports Management and Marketing class at MVCTC.
Warhawks Stadium (Click link for tour)
REALLY cool stuff from the Warhawks front office!
North Royalton High School, Ohio (Alabama Airmen)
We have really enjoyed seeing North Royalton students take a step forward in this competition this year. It is rewarding to see a school improve from one year to the next, and the Alabama Airmen have front office has been really impressive this season.
We really liked seeing a breakdown of stadium construction costs, a budget, and a general analysis of how much it will cost to build the new venue. Great job researching the costs associated with other recent stadium projects and applying them to this challenge, including the addition of a retractable roof. In addition, it was really cool to see North Royalton students explain how the project will impact the local economy both during the construction phase and on game days once the season starts. Overall, a great job by the Airmen front office.
Carl Sandburg High School, Illinois (Honolulu Tiger Sharks)
We really enjoyed some of the ideas from Carl Sandburg students with their stadium design, including incorporating innovative new smart LED lighting features, glass construction to showcase the natural beauty of Hawaii outside of the stadium, and seating that keeps fans cool in hot weather.
We also liked the idea of hosting pregame concerts featuring local musicians and bands at tailgates, which also feature plenty of local food options and activities tied to local culture. Communicating key information to fans in advance helps the team to proactively manage the game day experience, and the Tiger Sharks front office will do a nice job letting fans know what to expect at the stadium on game days.
Great job Tiger Sharks front office!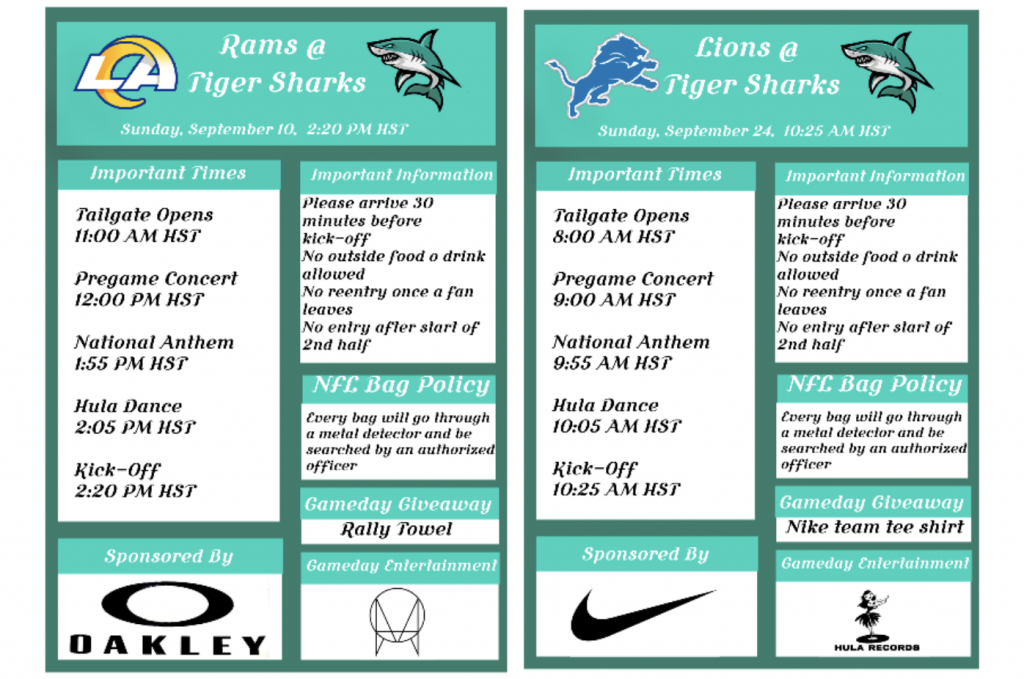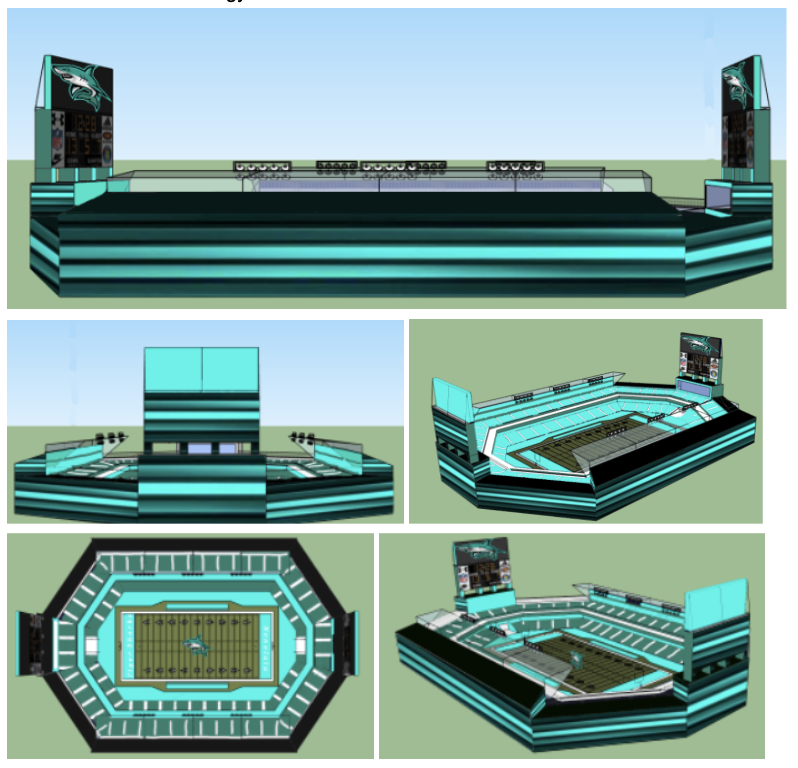 Five Star Magnet Academy, Florida (Utah Allos)
Five Star Magnet Academy students did a fantastic job addressing every possible aspect of the fan experience. There were many highlights from the Allos front office response to challenge #4, and here are a few of our favorites:
Pregame – Great recognition of the impact pregame can have on the fan experience, both inside and out of the stadium, and creating enhancements at every stop, from tailgate parties, local food trucks, Kids' Zones with face painting, etc., all catering to the interests of all types of fans
Premium seating – Nice job positioning premium areas as the "epitome of comfort and luxury" and recognizing the importance of creating a different marketing strategy for marketing to a higher income demographic
Stadium seating – Offering comfortable seating will keep fans wanting to come back game after game
Design feature – Including a giant Allosaurus feature outside the stadium is sure to be a hit with fans, and the photos and selfies are a surefire way to help maximize exposure for the franchise on social media
Fan safety – Prioritizing fan safety is paramount to a positive fan experience on game days
Food and beverage – From the Allos' report: "From hot dogs and hamburgers to unique creations like Titanosaurus tacos and Allosaurus Angus Burgers, we cater to every taste"
Customer service – One of just a handful of submissions that put an emphasis on customer service
Tech – Using biometric technology like fingerprint readers will help shorten lines and wait times at the point of entry, and payment tech will help not only improve fan experience by making it faster and easier for fans to purchase food, beverage, and merch, but also help boost game day revenue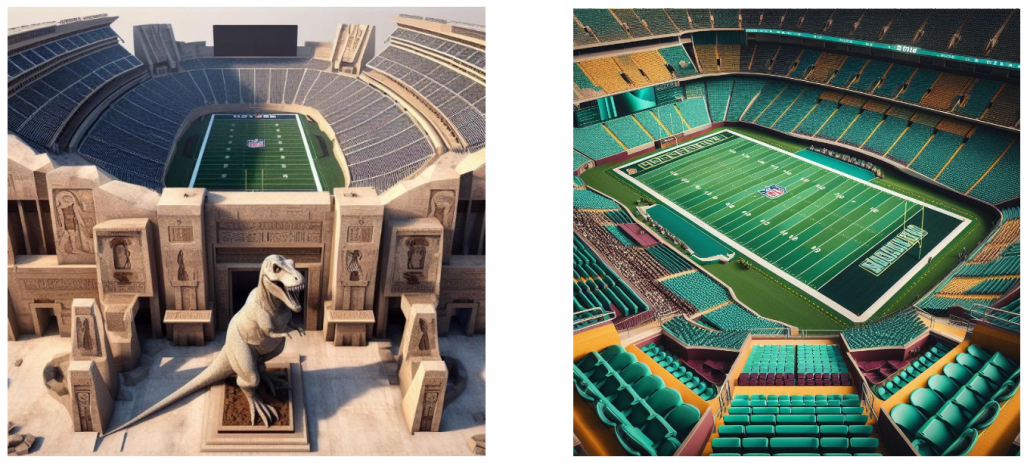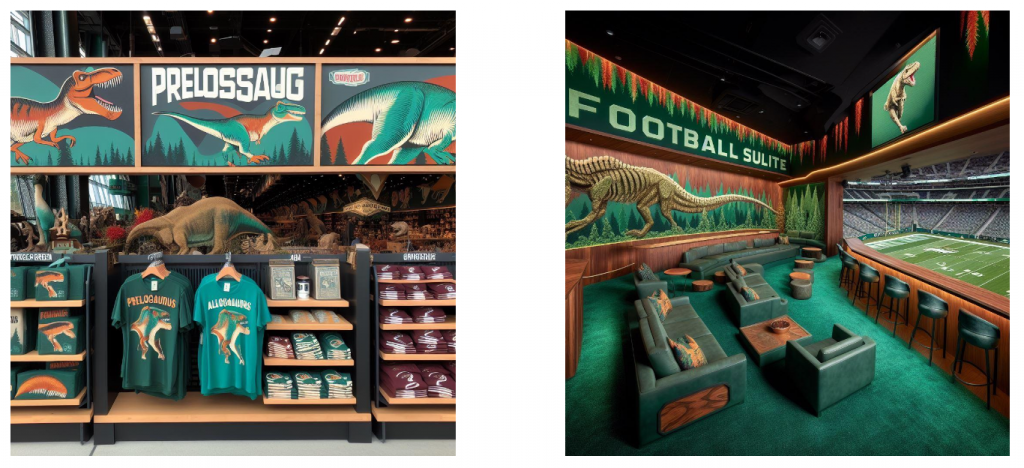 One of the biggest highlights from this challenge was seeing the investment from the Allos in interactive experiences at the stadium for fans. From the front office's Fan Experience report: "We believe in keeping fans engaged throughout their stadium experience. Our interactive smart boards provide information on everything, from finding your seat and concessions locations to VIP areas and player details. Fans can enjoy team-themed mini-games on these boards, adding an extra layer of fun and interaction. We also have a tweet board, where fan tweets and pictures can be displayed on the big screen when tagged with the stadium or team's Twitter account. Scanning QR codes can lead to exciting rewards like free merchandise, tickets, VIP experiences, and even a chance to meet players and coaches.
Great job Allos front office!
Blacksburg High School, Virginia (Austin Diablos)
No shortage of fantastic ideas from the Diablos' front office once again, but some of the stadium design elements included in the fan experience and stadium report from Blacksburg students were an absolute showstopper. In addition to nailing every other aspect of this challenge, the stadium design blew us away, and we really liked how some of the on-brand design elements would draw attention to revenue-producing areas of the stadium, like the food and beverage stands and merchandise sales areas. Fantastic work from the Diablos' front office!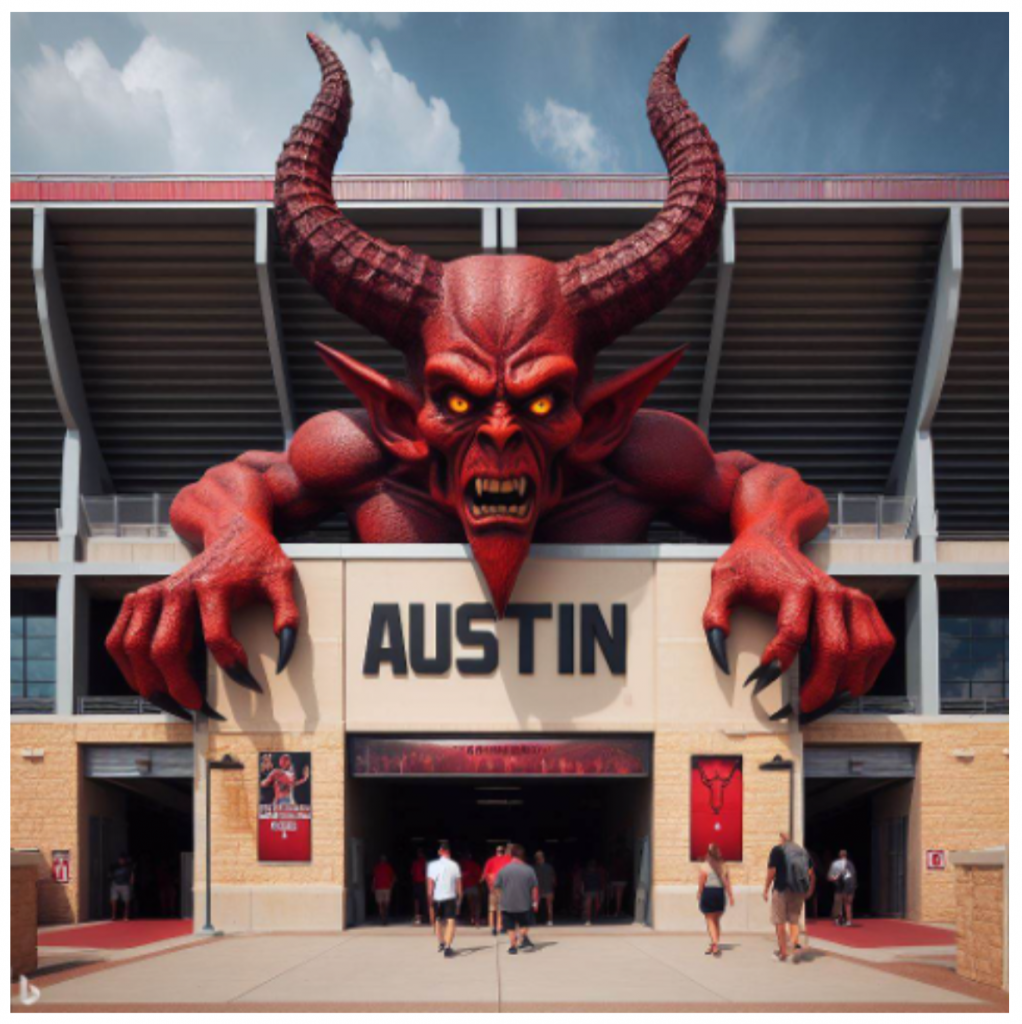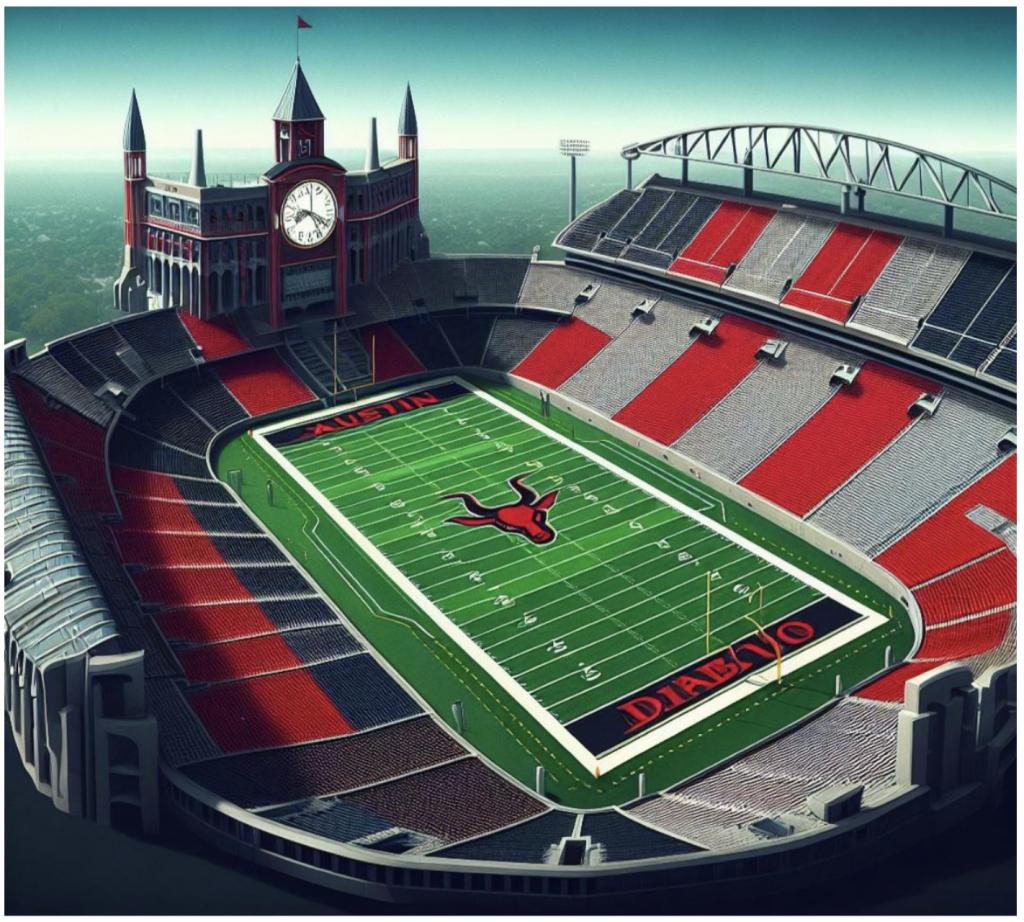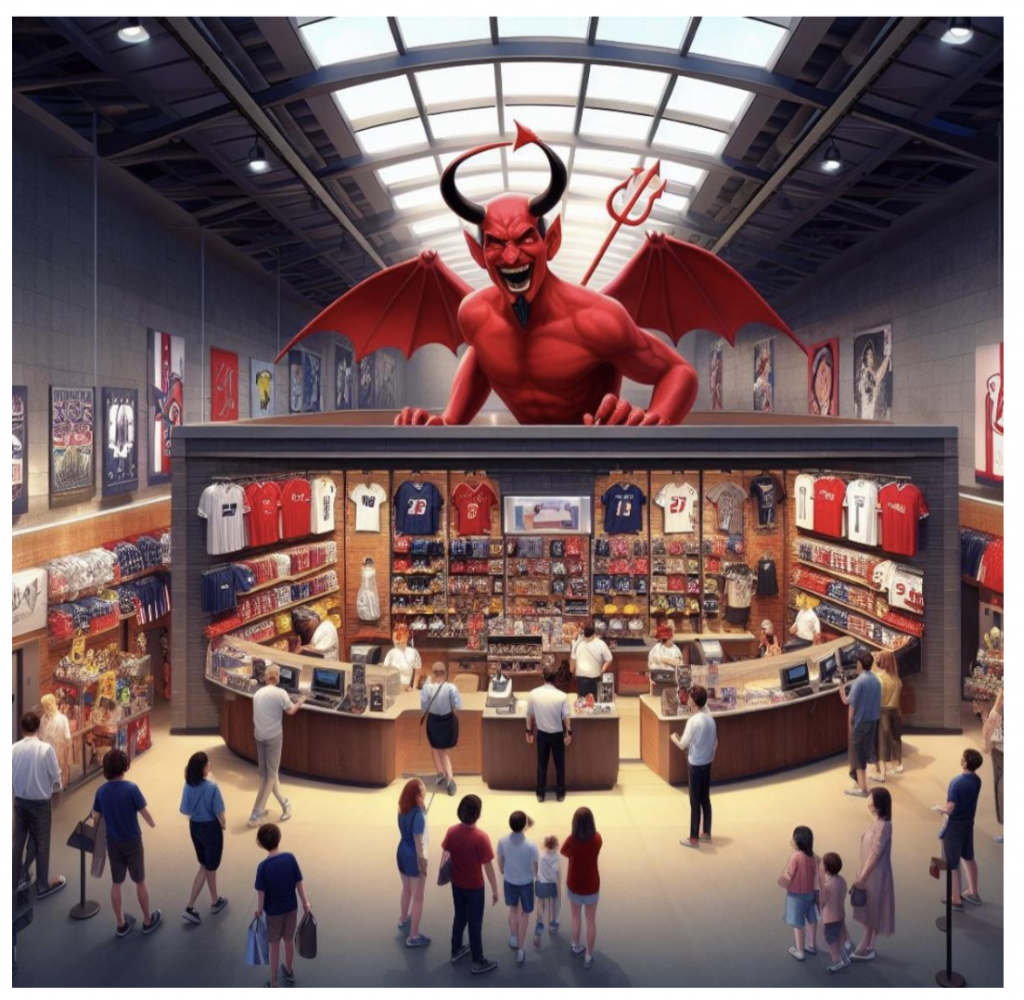 SCC FFL 2023 STANDINGS AFTER CHALLENGE #4