Super Bowl LVII Promotions Student Competition – Winning Entries!
In conjunction with Super Bowl LVII, Sports Career Consulting hosted a student competition with a focus on developing a fundamental understanding of the concept of promotion. Students were tasked with the development of a point-of-purchase promotional display representing a consumer goods brand tied to Super Bowl LVII.
Nearly all of this year's entries met the requirement of demonstrating a fundamental understanding of key sports business concepts, like promotion and branding, while executing viable strategies for boosting product sales. However, three entries, in particular, offered unique promotions that really stood out. The top three finishers submitted ideas that were not only creative but also offered effective strategies that would most certainly lead to an increase in product sales.
WINNER:
First Place: "Tostitos Kelce Bowl" (Hinsdale Central High School, Illinois)
Congrats to Katie B. at Hinsdale Central High School in Illinois for winning SCC's Super Bowl LVII Promotions Competition! Some highlights from her point-of-purchase display:
Excellent recognition of the importance of activating a sponsorship and leveraging brand position as an official sponsor of the NFL
Tying the promotion to a unique storyline celebrated in the media in the leadup to the big game
Featuring replica cutouts of the Kelce brothers at the display to increase engagement, encouraging consumers to take pictures and posting to social media
Inclusion of a sweepstakes component
Bolstering the social aspect of the campaign with hashtags tied to unique flavors introduced specifically as part of the promotion for the Super Bowl with #PhillyCoolRanch #KCNachoCheese
Not only was the attention to detail for the project fantastic, but Katie's sales and promotion strategy was also on-point. Congratulations Katie on the victory!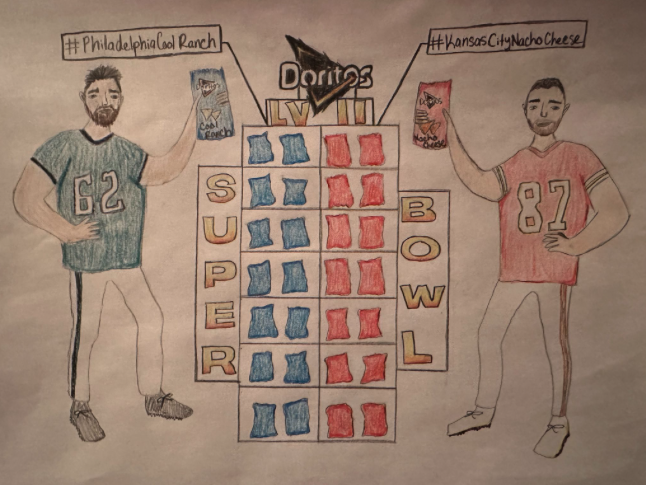 Runner Up: "Tostitos Scoreboard" (Hinsdale Central HS, Illinois)
A really impressive and creative effort from Delaney O. at HCHS was one of two runners-up in this year's pop display competition.
Highlights include:
Delaney also recognized of the importance of sponsorship activation, leveraging Tostito's brand position as an official sponsor of the NFL for the promotion
Introduction of sweepstakes to capture interest and attention with the opportunity to win free tickets
Great idea to tap into fandom and the competitive spirit often coinciding with sports with the creation of a scoreboard feature as part of the display
Lots of creative branding, including the placement of two oversized jars of Tostitos dip as tables within the display along with a Tostitos-branded scoreboard and helmet decals
Overall, really impressive work from Delaney. Nice job!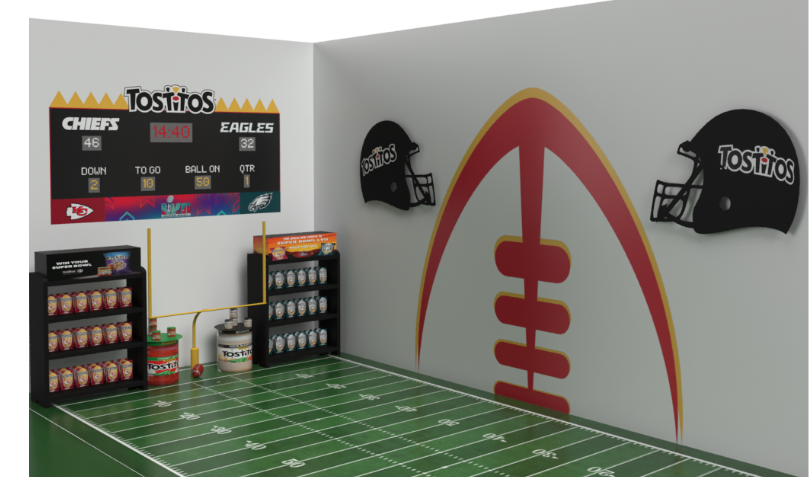 Runner Up: "Lay's Hidden Football Chip" (Tappan Zee High School, New York)
The other runner-up in this year's competition is Nina V, representing Tappan Zee High School in New York.
Here is the description of Nina's display: "Lays: A display showcasing the promotion. A clear plastic case shaped like a football with the top open(trash case sized) with Lays bags inside for an easy-to-grab snack. Around this display would be the boxes of Lays shaped like the field goals, in front of the shelves. Lays is an official NFL sponsor, so the NFL logo could be placed on these items."
Highlights from Nina's display include:
Creative concept for a promotional display featuring a large clear football-themed container with grab-and-go bags of chips available for sale
The display also featured boxes of Lay's variety packs in the shape of a field goal, which is a great way to get consumers to try multiple flavors
Sampling component to get people to try the product
Inclusion of a sweepstakes promotion, and a unique spin with a "hidden chip" where lucky fans could be eligible to win tickets to the big game
Love the sweepstakes promotion with the hidden chip
Boosting the promotion with a social media component on Twitter and Instagram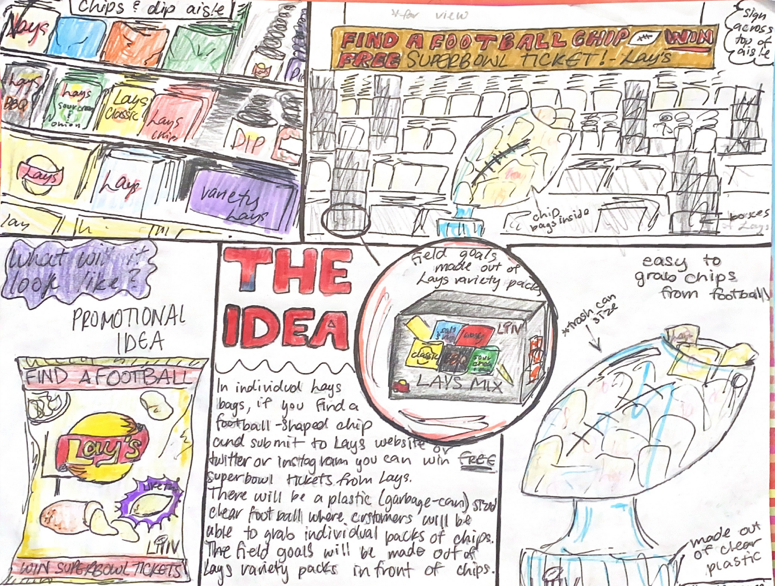 Congrats again to all the students who finished in the top three! We have prizes coming your way!