Marketing Insights from SCC
now Available by popular demand!
After years of requests for a program designed for general business and marketing courses but structured like our popular sports and entertainment marketing programs, we are scratching that education itch with the introduction of "Marketing Insights from SCC"!
Does your current business or marketing curriculum and/or textbook resonate with today's generation of students? Bring the cutting-edge business strategies that are driving the innovations we are seeing in marketing today to your classroom with a subscription to Marketing Insights from SCC ! In addition to conversations around many of the most talked-about brands in the world, the program explores hot topics such as:
Marketing in the Metaverse
Trendy: Brand Collaborations
Viral sensation of WORDLE
NFTs and Cryptocurrency
TikTok Marketing
Making Sense of Supply Chain
Sustainability in Marketing
Ready for Launch: Space Tourism
What the heck is "shrinkflation"?
More!
Developed using a structure similar to SCC's sports and entertainment program that our subscribers already know and love, Marketing Insights will provide a new resource for maximizing engagement in any business or marketing classes.
Marketing Insights from SCC curriculum modules:
Module 1: What is Marketing?
Module 2: Product Management
Module 3: Branding
Module 4: Advertising
Module 5: Data & Analytics
Module 6: Digital & Social Media Marketing
Module 7: Public Relations
Module 8: Customer Service & Sales
Module 9: Marketing Trends
LMS INTEGRATION
As more schools move to digital learning, we aim to support both teachers and students in online learning environments.
Our business and marketing curriculum is available as a Common Cartridge file, that instructors can import into their school's LMS platform. This file includes all the "Marketing Insights" lessons, quizzes, activities, and more!
Supported LMS platforms include Canvas, Schoology, Blackboard and any platform that uses the Common Cartridge standard.

Industry Supported Curriculum
Chris Lindauer, President of Sports Career Consulting, spent nearly a decade working in sports before founding the company. Each year, he leans on the expertise of his vast network of industry professionals to help shape course materials to ensure the content provides the best possible reflection of true industry practice.
"Any time I talk with an educator who is teaching marketing at the high school level I always encourage them to check out Sports Career Consulting. From the weekly current events, up-to-date curriculum, real world connections, and access to numerous engaging lesson plans and activities, the material is incredibly valuable. However, what I love most is that Chris is always willing to assist in any way possible to help enhance the experience for our students. I know my students always enjoy hearing him talk during our virtual guest speaking events and learn a lot from Chris about not only finding success in the sports industry but also in life!"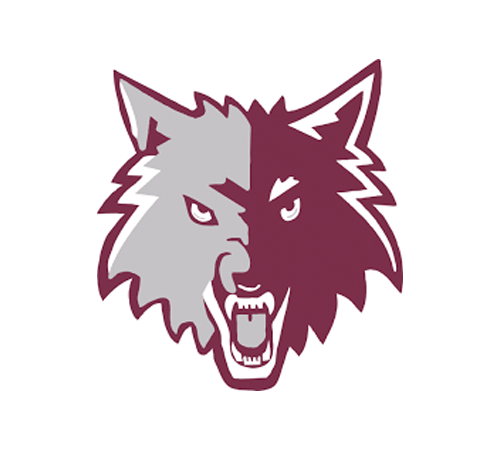 BRYAN PECKHART
Wellness / Division Leader Industry & Careers / Division Leader
Prairie Ridge High School
Illinois
CURRICULUM RESOURCES
In addition to access to lessons that are updated every summer to insure their relevance and impact, your Marketing Insights membership provides access to a wide variety of resources, including:
CURRENT lessons – Insure that your classroom conversations are tied to current industry trends by utilizing the lessons included with a Marketing Insights membership.
Presentation Slides – SCC's presentation slides feature plenty of graphics and examples to keep your students engaged.  Presentations are unlocked so you can edit and customize as you see fit!
Canvas & Schoology Integration – SCC's entire curriculum can easily be imported right into your school or district support Canvas or Schoology LMS platform!
Student assignments
Discussion decks
Exams with answer keys
STUDENT COMPETITIONS
A subscription to SCC's Marketing Insights allows teachers to enroll their students in our national student competition in the spring.
Building a Brand Marketing Campaign (Spring)
Prizes include a pizza party, championship trophy and bragging rights for winning schools!
Additional Subscription Benefits
Virtual Field Trips – Tied to the spring student competition, students will hear from industry professionals for a behind-the-scenes look at business and marketing concepts and to learn about careers in a variety of capacities in business and marketing.

Weekly Current Events – A subscription to "Marketing Currents", SCC's weekly current events package, is included with your Marketing Insights from SCC membership.

Complimentary Phone Consultation – Chris Lindauer, President and founder of SCC, offers a half-hour phone conference to walk first time teachers through the resources included with your membership.

Bonus Lesson Plans – SCC's "bonus material" features lesson plans relating to the hottest trends and events in the industry throughout the school year.
REQUEST SAMPLES​
If you have questions or would like to request sample resources, please contact us.  Thank you for your interest in our programs!
Marketing Insights from SCC
Our General Business and
Marketing Curriculum Package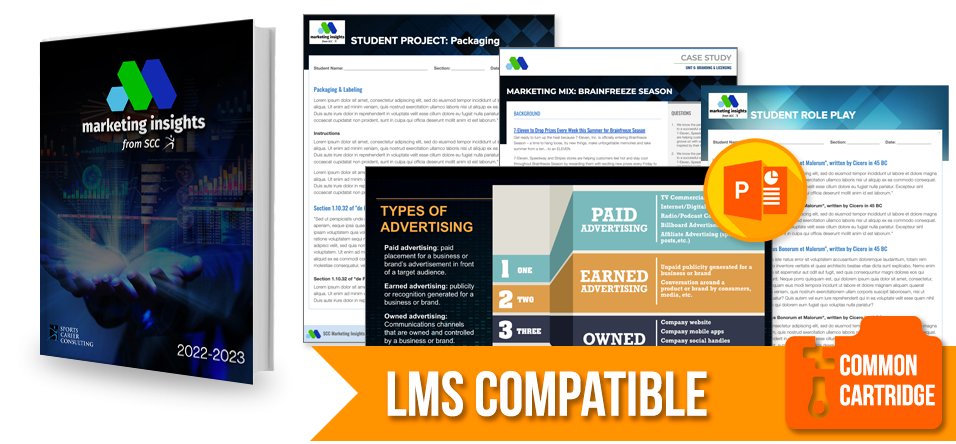 $599
Complete Access
Fun for you and your students!
"Snackable": Marketing Insights lessons present content in short form, easily digestible in a way that conforms to how students today prefer to learn.
Relevant: Updated and current featuring content developed with insight from industry pros.
Versatile: Content relates to any business or marketing class, including fashion marketing, hospitality & tourism, leadership, and entrepreneurship.
Flexible: Curriculum designed in a way to provide the flexibility to supplement all your existing lesson plans with fresh, new, industry-relevant content.
Subscription Course Materials
Your membership subscription to Marketing Insights from SCC includes the following course materials
Individual Lessons:
Business & Marketing
Updated every summer, Marketing Insights lessons are sure to provide an accurate reflection of current industry practices. The digital nature of the lessons also allows for interactive content, with links to additional educational resources for students.
---
Weekly Current Events Subscription (Marketing Currents)
---
Virtual Field Trips (Q&A's) with Industry Thought Leaders
Hear from industry professionals about current trends, best practices, and learn about business and marketing careers
---
Presentation Slides
Comprehensive presentation slides for each lesson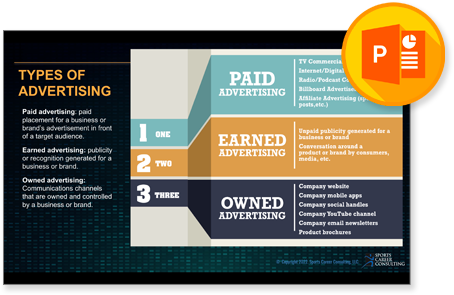 ---
Activities, Discussion Decks & Exams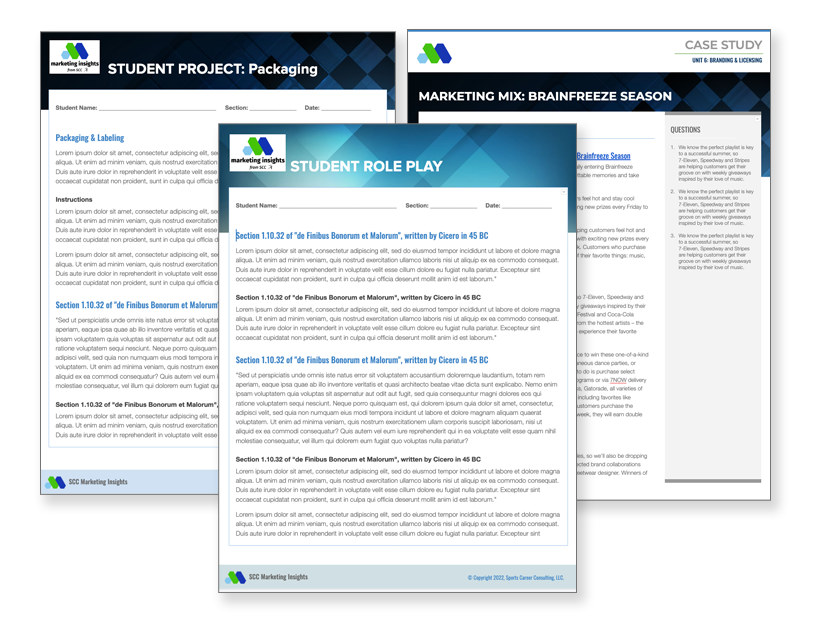 ---
Relatable Lesson Plans
Throughout the school year, your Marketing Insights subscription provides access to lesson planning guides for every season.  These highly-relatable resources are available exclusively for "Marketing Insights" members.
Here is a sample of the "bonus" lesson plans shared this year with our Marketing Insights from SCC subscribers: