SCC FFL 2022: Sports Marketing Challenge #1 Recap & Scores
SCC FFL 2022: Sports Marketing Challenge #1 Recap & Scores
We have a lot of first and second-year competitors in this year's SCC Fantasy Football League Sports Marketing Challenge, our 8th annual. Based on the response to the first challenge in this year's competition, you would have never guessed it. This year looks like it will be as competitive as ever and the field appears to be wide open!
In the first sports marketing challenge of the competition, we challenged students to develop a marketing plan for an expansion professional football franchise. The report required marketing goals and objectives, revenue and expense projections, and an economic impact report. The responses were evaluated on how well students communicated an understanding of key sports business concepts, creativity, and the selection of an expansion city and team nickname.
We saw a lot of familiar choices for expansion cities this year, with four teams choosing to put down roots in Salt Lake City, two in Portland, two in San Antonio, two in Toronto, and one in Honolulu. However, a few cities appear for the first time in the eight-year history of our competition, including franchises based in Virginia Beach, Santa Cruz, and Augusta, Maine (look out Patriots, there is a new franchise in the New England area). We also have another first with an international team based in Berlin, Germany.
We would like to recognize a few schools in particular for their responses to the first sports marketing challenge.
Miami Valley Career Tech Center, Ohio (Dayton Jokers)
We always looking forward to seeing MVCTC students getting the creative juices flowing early in this competition. This year, the Jokers' front office did not disappoint! Their response to sports marketing challenge #1 offered a well-organized report, including a thorough SWOT analysis that showed how much research students did into the Dayton market, and realistic goals for an expansion season.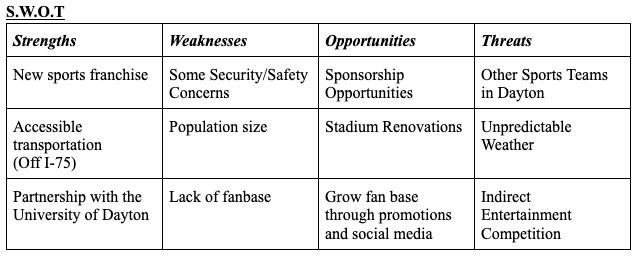 They also provided a detailed analysis of the new franchise's economic impact on the Dayton area which was really well done. No doubt the community will generate from the job creation and influx of visitors patronizing local restaurants, shops, hotels, and transportation. The inclusion of a project timeline for things like social media platform launches, the introduction of a team mascot, and other promotions was a really nice touch.
Overall, another great start to the competition from Zach Gueth's students at MVCTC!
Grant High School, Oregon (Honolulu Fire)
Defending champion Grant High School has a proven track record in this competition, having finished in the top five in this competition every year since 2019. This year, Matt Kabza's students rushed to a strong start and have already set the tone for a run at another SCC FFL title. 
As always, Grant High School students submitted an incredibly organized report in response to challenge #1, with a very detailed forecast for revenue and expenses. We really liked seeing the recognition of how various line items in the budget will impact the franchise, not only in year one but in the next five years. Excellent job. The Fire front office also put together an excellent location analysis when choosing the city of Honolulu as an expansion market, and a great mission statement.
Grant High School students also explain how they wanted the new franchise nickname to reflect community values and pay tribute to Hawaiian culture, saying "In Hawaiian religion, the creator of the islands is Pele. Pele is the goddess of volcanoes and fire. Fire has remained of huge importance to the Hawaiian people, one of the biggest reasons that we became the Honolulu Fire.  We will incorporate fire into our franchise in a variety of ways: flames on the jerseys, fire dancers to hype up the crowd, and the Lava Pit section where the fans bring the heat."
Well done Fire front office!
Elizabethtown High School, PA (Portland Pioneers)

If the response to challenge #1 is any indication, Justin Ivans' students at Elizabethtown High School came to play this year! With their rookie season under their belt, the Pioneers' front office looks poised for a breakout season. With a great mission statement, detailed SWOT analysis, and a firm understanding of the market, EHS students have created a great foundation to build on this season.
What really stood out in the Pioneers' report was the incredible detail that went into the team's budget. EHS students detailed a comprehensive list of line items on both sides of the ledger, including calculating costs of player equipment, stadium expenses, and more. They also nailed the revenue projections, even including an accurate figure for what their portion of the league's revenue sharing as part of the revenue projections for the team's inaugural season.
Really impressive start to the competition from the Pioneers' front office!
Helena High School, MT (Oklahoma Outlaws)
In just their second season in the SCC FFL, Jessica Frazier's class has already emerged as a contender for this year's title. We saw the creative energy from Helena HS students last year, and based on the response to challenge #1, it looks like they might be ready to take that next step in the 2022 season.
Overall, we loved how well the Outlaws' marketing plan has positioned the franchise to build strong roots immediately with the Oklahoma City community. The team's mission statement communicates a clear commitment to representing not just the city, but the entire state in a way that will make the area proud. The Outlaws' also pledged to give back through charity work and volunteering, helping the franchise to build relationships throughout the community that will last.
In addition, the Outlaws' front office provided some great graphics to help illustrate concepts from the marketing plan, and the SWOT was very well prepared.
All in all, this was a SUPER impressive effort from Helena HS. We can't wait to see what is next from the Oklahoma Outlaws!
Kellam High School, VA (Toronto Taipans)
We really liked the Taipans marketing plan (although we must admit, we had to google what a Taipan was). Jason Copeland's students at Kellam HS did a really nice job explaining why Toronto was a market ripe for a professional football expansion franchise, explaining the opportunity it presents with its population, median income, number of large corporations and more. The Taipans' front office also offered a great breakdown on budget, revenue, and expenses, and we loved seeing them highlight a plan for reinvesting revenue from the inaugural season in ways that will help the franchise to grow Also, including a line item for stadium upkeep shows the franchise's commitment to game day experience, a critical aspect to any sports team's ability to attract fans to the stadium and keep them coming back for more.
Kent Career Technical Center, MI (Berlin Badgers)

Kirk Helferich and his students are no strangers to SCC competitions, perhaps this be the year his class gets over the hump and wins the championship. The first challenge response was very good, and the Badgers' front office is already well positioned to make a run at the title.
While initially a bit skeptical, we were really intrigued by the selection of Berlin as an expansion city. However, the Badgers' front office did a fantastic job selling it in their report, convincing us that Berlin could represent a viable international market for pro football. For this to work, the franchise must have a genuine understanding of the market, the culture, and the community, and Kent CTC students demonstrated that they had done the research to conclude Berlin would emphatically support a franchise. We will see how that translates in the remaining challenges.
Nice job Badgers' front office!
Blacksburg High School, VA (Virginia Beach Tridents)
While Blacksburg High School is a two-time champion in this competition, BHS students are under new leadership after the departure of legendary SCC FFL GM, Kim Radford. However, Jessica Catley appears to be up to the challenge, and her class delivered a response to challenge #1 that her would most certainly make her predecessor proud.
We thought this was an interesting choice for a city, and we haven't seen Virginia Beach selected in this competition before, but we are really intrigued by the potential. The Tridents' front office did a great job outlining the opportunity the market presents. They also did a great job researching the city, making sure to choose a team nickname that honors the community's history and legacy which will most certainly help to build support and enthusiasm for the expansion franchise.
Blacksburg students really nailed it at every level in this challenge, presenting a very thorough SWOT analysis, very detailed revenue and expense projections, a mission statement endearing the franchise to community, and solid (realistic) marketing goals and objectives. Given some of the headlines dominating sports news lately with dysfunctional ownership of pro teams, we really liked seeing a commitment to finding an owner with local ties to the area with a strong track record of community involvement and successful leadership. We also liked the idea of creating minority ownership opportunities for celebrities with ties to the community. This will no doubt help to get fans excited about the team's first season, and could go a long way in building relationships with sponsors.
Great job Tridents' front office!
Woodbridge High School, VA (San Antonio Spiders)
Nicole Healey's students at Woodbridge High School have jumped into the conversation as an early contender. Really nice job with the market, and one of only a few teams to recognize an expense of an expansion fee. GREAT job researching potential expenses by identifying the NFL franchise average to help create more accurate projections.
We also thought it was a smart strategy to secure a stadium naming rights partner to maximize revenues that can help to support early marketing efforts and invest in building a roster that will allow an expansion franchise to be competitive on the field. Whataburger, headquartered in San Antonio, as naming rights partner could open the door to some additional promotional opportunities down the road as well. The commitment to community will certainly resonate with fans in the San Antonio area, and devoting resources to help maximize the team's economic impact will definitely be appreciated by area businesses. The Spiders' front office were also one of few teams to detail how the new stadium will be funded, obviously a critical to the success of the new franchise, along with building a venue that allows the franchise to maximize revenue opportunities by focusing on luxury suites, premium seating, and PSLs.
Overall, this was a very well developed plan by the students at Woodbridge High School. Way to go Spiders' front office!
SCC FFL 2022 STANDINGS AFTER CHALLENGE #1
| | | |
| --- | --- | --- |
| SCHOOL | TEAM NAME | TOTAL POINTS |
| Helena High School | Oklahoma Outlaws | 250 |
| Blacksburg High School | Virginia Beach Tridents | 248 |
| Grant High School | Honolulu Fire | 248 |
| Miami Valley MVCTC | Dayton Jokers | 248 |
| Montgomery County | Salt Lake City Scorpions | 247 |
| Woodbridge High School | San Antonio Spiders | 247 |
| Elizabethtown High School | Portland Pioneers | 247 |
| Kent CTC | Berlin Badgers | 247 |
| Tolland High School | San Antonio Spartans | 246 |
| Wichita East | Kansas Knights | 245 |
| Kellam High School | Toronto Taipans | 245 |
| Five Star Magnet Academy | Salt Lake City Maniacs | 245 |
| Northwest HS | Salt Lake City Mountaineers | 245 |
| Carl Sandburg High School | Toronto Coyotes | 244 |
| Bigfork High School | Salt Lake Pronghorns | 244 |
| Los Banos | Santa Cruz Prairie Dogs | 244 |
| Heritage HS | Augusta Elks | 244 |
| Kent ISD | Portland Wildcats | 243 |
| West Forsyth | | 0 |
| Richardson High School | | 0 |
| Brighton | | 0 |
| Roslyn High School | | 0 |