Education Resource Center
Get in the game with the best curriculum on the market!
Whether you opt to spend a few weeks integrating sports and entertainment with your existing marketing/business courses or you are developing a brand new program for the entire school year, SCC's Education Resource Center (ERC) offers everything you could  need. First time teaching a sports and entertainment class?  No problem!  The provided content makes course preparation extremely easy for teachers at all levels, offering comprehensive resources that will have a positive impact on your students' classroom experience.
NEW! LMS INTEGRATION
As more schools move to digital learning, we aim to support both teachers and students in online learning environments.
Our complete sports and entertainment marketing curriculum is available as a Common Cartridge file, that instructors can import into their school's LMS platform. This file includes the entire Business of Sports & Education text book, quizzes, assignments, projects, case studies, and more!
Supported LMS platforms include Canvas, Schoology, Blackboard and any platform that uses the Common Cartridge standard.

#1 Industry Supported Curriculum
Chris Lindauer, President of Sports Career Consulting, spent nearly a decade working in sports before founding the company. Each year, he leans on the expertise of his vast network of industry professionals to help shape course materials to ensure the content provides the best possible reflection of true industry practice.
"Any time I talk with an educator who is teaching marketing at the high school level I always encourage them to check out Sports Career Consulting. From the weekly current events, up-to-date curriculum, real world connections, and access to numerous engaging lesson plans and activities, the material is incredibly valuable. However, what I love most is that Chris is always willing to assist in any way possible to help enhance the experience for our students. I know my students always enjoy hearing him talk during our virtual guest speaking events and learn a lot from Chris about not only finding success in the sports industry but also in life!"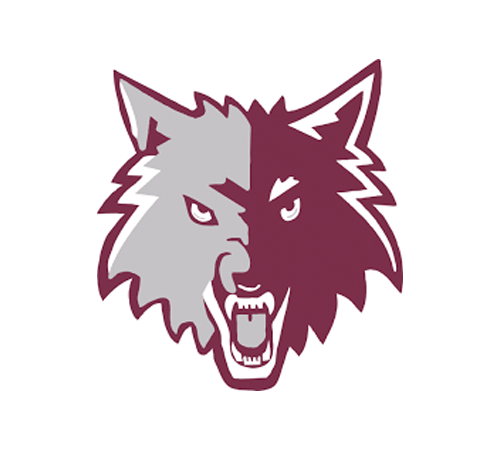 BRYAN PECKHART
Wellness / Division Leader Industry & Careers / Division Leader
Prairie Ridge High School
Illinois
CURRICULUM RESOURCES
In addition to access to a digital textbook that is updated every summer (The Business of Sports & Entertainment), your ERC membership provides access to a wide variety of supplemental resources, including:
CURRENT textbook and student workbook – SCC's textbook, The Business of Sports and Entertainment, is updated every summer!
PowerPoints – SCC's PowerPoints feature plenty of graphics and examples to keep your students engaged.  Presentations are unlocked so you can edit and customize as you see fit!
Canvas & Schoology Integration – SCC's entire curriculum can easily be imported right into your school or district support Canvas or Schoology LMS platform!
Student assignments
Classroom activities
Exams with answer keys
Case studies
Projects, Projects, Projects! – Is your teaching style better suited for a project-based classroom?  Your ERC includes access to over FIFTY projects, all with real-world applications
Learning games: Crossword puzzles, word finds, word scrambles
Classroom games: PPT games that offer a fun way to introduce concepts from SCC's textbook.
STUDENT COMPETITIONS
A subscription to SCC's ERC allows teachers to enroll their students in our national student competitions, including:
SportsBiz Madness Case Study Competition (Spring)
Fantasy Football Sports Marketing Challenge (Fall)
Prizes include gift cards, pizza party, a trophy and bragging rights for winning teams!
Additional Subscription Benefits
Distance-Learning Friendly Curriculum – SCC has provided online resource access to ERC members for over a decade, distance learning isn't new to us!

Weekly Current Events – A subscription to Competitive Edge, SCC's weekly current events package, is included with your ERC membership.

Complimentary Phone Consultation – Chris Lindauer, President and founder of SCC, offers a half-hour phone conference to walk first time teachers through the resources included with your membership.

Bonus Lesson Plans – SCC's "bonus material" features lesson plans relating to the hottest trends and events in the industry throughout the school year.
REQUEST SAMPLES​
If you have questions or would like to request sample resources, please contact us.  Thank you for your interest in our programs!
Education Resource Center
Our Premier Sports & Entertainment Marketing Curriculum Package
Subscription Course Materials
A subscription to ERC includes the following course materials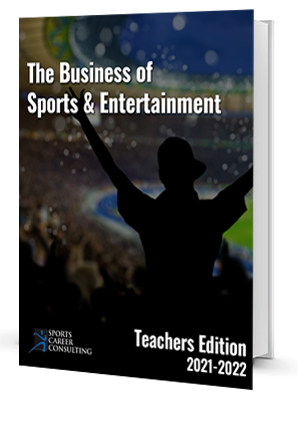 Digital Textbook:
The Business of Sports and Entertainment
Updated every summer, this sports and entertainment marketing textbook reflects state-of-the-business information. The digital nature of the e-book also allows for interactive content, with links to additional educational resources for students.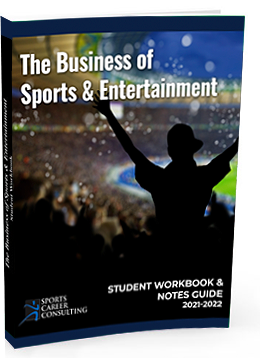 Student Workbook and
Notes Guide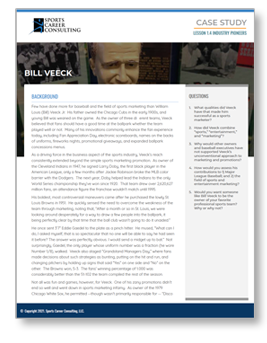 SEM Case Studies
Real-life case studies examining various topics covered throughout the book.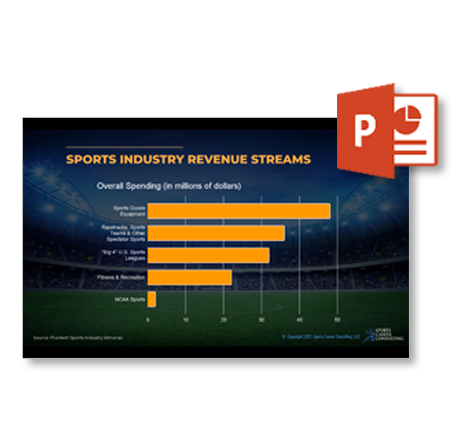 Powerpoint Slides
Comprehensive presentation slides for each unit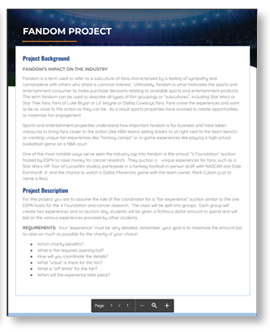 SEM Projects
AND MUCH MORE!
Relatable Lesson Plans
Throughout the school year, your ERC subscription provides access to lesson planning guides for some of the most high profile sports and entertainment events.  These highly-relatable resources are available exclusively for Education Resource Center members.
Here is a sample of the "bonus" lesson plans that were shared last year with SCC's Education Resource Center subscribers:
COVID-19 Health Crisis: Economic Impact of the Sports & Entertainment Industry
NBA All-Star Weekend 2020
62nd Running of the Daytona 500
2020 Grammy Awards
Super Bowl LIV
College Football Bowl Season
NFL My Cause My Cleats Campaign 2019
Should college athletes be paid?
2019-2020 NBA / Nike Uniform Collections
2019 FIFA Women's World Cup
BONUS Content
In addition to lesson plans, ERC subscribers will enjoy access to activities, discussion guides and PPTs created exclusively for members throughout the school year.
Some examples from last year include:
National Bobblehead Day Social Media Review & Activity
Holiday Promotions PPT
NHL Team Hashtags
2019 Fortnite (esports) World Cup:  By the Numbers
(LESSON 2.7 Supplement)
Fantasy Football by the Numbers
(2019 Edition)
Sneaker Innovation
(LESSON 2.5 Supplement)
Stranger Things Season Three:  Product Placement and Promotional Tie-Ins
(LESSON 3.3 Supplement)
NBA's Most Loyal Fans
(LESSON 6.1 Supplement)
NBA All-Star Weekend Sponsor Activations PPT
(LESSON 8.3 Supplement)
Milwaukee Bucks Group Ticket Packages PPT
(LESSON 9.2 Supplement)